ISTANBUL AIRPORT (IST) INFORMATION
Origin
Airline
Flight no.
Scheduled
Est./Actual
Status
No flight arrivals were found at Istanbul Airport.
Destination
Airline
Flight no.
Scheduled
Est./Actual
Status
No flight departures were found at Istanbul Airport.
Car Hire at Istanbul Airport
UNBEATABLE VALUE CAR RENTAL
Free Amendments | Free Cancellations | No Card Fees




Istanbul Airport Istanbul Airport
Istanbul Airport, Tayakadın, Terminal Cad No: 1, 34283 Arnavutköy/İstanbul, Turkey
phone +90 4441442
phone+90 4441442 (Lost + Found)
emailcustomercare@igairport.aero
emailcustomercare@igairport.aero (Lost+Found)
Facts and History about Istanbul Airport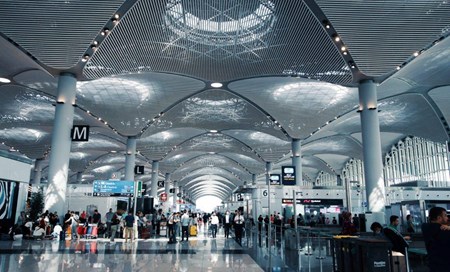 Istanbul Airport is the new main international airport serving Istanbul, Turkey. It is opened by DHMI, General Directorate of State Airports and operated by IGA (Istanbul Grand Airport) Havalimanı İşletmesi A.Ş.
The airport has replaced the old Istanbul Atatürk Airport which dated back to 1911. Because of the demand for domestic and international air traffic it became clear that it was not possible to expand where it is located and it was decided to build a new, modern airport north of Istanbul, on the European side in replacement, just outside Arnavutköy in the Istanbul province. Istanbul Atatürk Airport was ranked among the five busiest airports in Europe since 2013.
The opening ceremony for Istanbul's new airport took place on October 29, 2018 and on April 6, 2019 all commercial passenger flights were moved from the old airport to new, after the equipment was moved over a 41 hour period around the 5th of April. The two airports had been in operation simultaneously for a few months to allow the new airport to do trial flights and to tweak what needed to be tweaked. Istanbul Atatürk Airport is now only open for cargo, maintenance, general aviation, air taxis, business flights as well as state and diplomatic aircrafts.
Istanbul Atatürk Airport's IATA code IST was also transferred to the new Istanbul Airport on the day of transferring all commercial passenger traffic. The ICAO code is LBTA.
Istanbul Airport is the largest airport in Europe and its strong infrastructure, superior technology and premium travel experience continues to win the approval of international institutions.
2020 was the airport's full year being in operation, but since this was the year the Covid-19 pandemic hit air traffic hard the airport saw a 55% decrease from 2019, even though 2019 only really started in early April. The time period January to September of 2021 shows an increase from 2020's 23,409,132 passengers to 25,051,860.
The airport currently has five runways, but there are plans for eight in total, four are in operation. Four of the runways have asphalt surface, while the fifth has asphalt and concrete surface. Two of the asphalt runways are 3,750 m/12,303 ft long respectively while the other two are 4,100 m/13,451 ft long respectively and the asphalt/concrete runway is 3,060 m/10,039 ft long.
The single terminal is considered the largest terminal in the world housed under one single roof and it has the capacity for 90 million passengers a year. The airport is however still under construction and will have a capacity of 200 million passengers a year by 2028. It has five concourses lettered A, B, D, F, and G. The most southeast concourse is Concourse G and it houses domestic flights only as are three passenger bridges located directly to the north of Concourse G in Concourse F. The rest of the terminal is for international flights.
Arrivals, Departures and Airlines at Istanbul Airport
Transfers at Istanbul Airport (IST)
Rental Cars – The car rental companies at Istanbul Airport are located on landside in the domestic area of the terminal and they are open at all times.
Public Transportation Buses – Two bus companies provide transfers between Istanbul Airport and Istanbul. Havaist is a private company that operates 10 routes connecting the airport with the more central and touristic parts of Istanbul using buses with comfort and space for luggage, while IETT is a public transportation company that operates 6 routes to the less touristy areas and is mostly used by locals and have less space and comfort, but they are also quite a bit cheaper. Most of the bus routes operate 24/7.
Taxis – The official taxi cabs at Istanbul Airport can be found at specific points outside the terminal and they are the only taxi cabs that are recommended to use due to safety reasons and to make sure the taxi fare is fair. Taxis come in three categories named after the colors orange, turquoise/blue and black with the orange offering the basic for a small, basic vehicle and a basic ride. The turquoise/blue category has cars with more comfort and space and cost 15% more than the orange category, while the black offers luxury and premium services for a fare that is 70% higher than the orange. The fares are based on a taximeter with set tariffs.
Because the Istanbul traffic is known to be heavy and somewhat chaotic journeys often take longer than planned and therefore also cost more. More information and tips about transferring to or from Istanbul Airport with a taxi can be found here.
Hotel Shuttles – Many of the hotels in Istanbul offer airport shuttle transfers to their guests and it is a convenient way to transfer to or from the airport. These transfers are organized through the hotel by the traveler in advance. Guests are collected from the Transportation Floor, -2.
Private Transfers – Private transfers to or from Istanbul Airport may be booked in advance and will collect their customers on level -2, Transportation Floor, of the terminal.
Trains – There is currently no train services at the airport, but a new metro line is planned to open early 2022, another later during the year and a train line connecting the airport to Halkali and then with the Asian rail network at Gebze. More information about local train services in Istanbul.
Hotels near Istanbul Airport
There are a number of hotels to suit all budgets and requirements at or near Istanbul Airport.
Parking at Istanbul Airport (IST)
Not only does Istanbul Airport have the largest terminal in the world, they also have the largest multi-story parking facility in the world with 18,000 parking spaces divided into five parking buildings, four have seven stories while one has three. On top of that there are an additional 22,000 parking spaces available on surface lots. More information about parking at Istanbul Airport.
Additional Services and Amenities at Istanbul Airport
At Istanbul Airport you will find the usual array of bars and restaurants, airport lounges and shops.
Smoking at Istanbul Airport (IST)
It is not allowed to smoke inside the airport, but there are a total of 13 smoking terraces available on airside, three on the domestic side and 10 on the international side.
WiFi at Istanbul Airport (IST)
Free WiFi access for one hour is available in the 33 wireless internet kiosks located throughout the terminal. Travelers, or visitors, can access it either via SMS or their passport number.
ATMs at Istanbul Airport (IST)
All ATMs/cash machines found at the airport are located on landside.
Check-in Counters, Luggage Drop Counters and Check-in Kiosks at Istanbul Airport (IST)
Istanbul Airport has a total of 566 check-in counters, 112 self-check-in kiosks, 13 counter islands, and 36 luggage drop-off counters.
Airport Lounges at Istanbul Airport (IST)
Lounges are available at the airport and it is possible to access them through a one-time payment at the desk. One is located in the domestic area and one in the international area, both on airside.
iGA Pass at Istanbul Airport (IST)
iGa Pass offers a premium package on either a daily or a yearly basis. These passes offer premium services such as Fast Track, Priority Check-in (if the airline offers it), access to the lounge and free buggy rides. The pass is available for adults and kids with the price for kids being half the price for adults.
Closest International Airport to Istanbul Airport (IST)
Sabiha Gokcen International Airport is the closest international airport to Istanbul Airport. It serves the Asian side of Istanbul. The distance between the two airports is approximately 80 km/50 mi.
Things to do in Istanbul Airport
There are a number of activities to suit all ages and interests in the region - see a selection of tourist activities in Istanbul, Turkey.
Istanbul Airport Contacts
Address: Istanbul Airport (IST), Tayakadın, Terminal Cad No: 1, 34283 Arnavutköy/İstanbul, Turkey
General Phone: +90 4441442
General Email: customercare@igairport.aero
Lost and Found Email: customercare@igairport.aero
Lost and Found Phone: +90 4441442
Official Website: https://istairport.com/en
Local Information
Drive on: Right
Electricity: 220V/50Hz
Plug: C and F
Currency: Turkish Lira (TL), TRY, ₺
Services at Istanbul Airport
Useful Information about Istanbul Airport