Flights, Arrivals & Departures at Istanbul Airport
Origin
Airline
Flight no.
Scheduled
Est./Actual
Status
Constanta (CND)
Turkish Airlines
TK1068
00:05
00:52
Landed
Belgrade (BEG)
Turkish Airlines
TK1084 expand_more(1)
00:05
00:33
Landed
Belgrade (BEG)
AirSERBIA
JU8005
00:05
00:33
Landed
Chisinau (KIV)
Turkish Airlines
TK272
00:05
00:10
Landed
Madrid (MAD)
Turkish Airlines
TK1860 expand_more(4)
00:05
00:50
Landed
Madrid (MAD)
Air Europa
UX3903
00:05
00:50
Landed
Madrid (MAD)
Avianca
AV6612
00:05
00:50
Landed
Madrid (MAD)
IndiGo
6E4147
00:05
00:50
Landed
Madrid (MAD)
Uzbekistan Airways
HY7290
00:05
00:50
Landed
Jeddah (JED)
Turkish Airlines
TK127
00:05
00:03
Landed
Sofia (SOF)
Turkish Airlines
TK1030
00:05
00:01
Landed
Vilnius (VNO)
Turkish Airlines
TK1410
00:05
00:41
Landed
Venice (VCE)
Turkish Airlines
TK1870 expand_more(2)
00:05
23:51
Landed
Venice (VCE)
IndiGo
6E4162
00:05
23:51
Landed
Venice (VCE)
Malaysia Airlines
MH4344
00:05
23:51
Landed
Oslo (OSL)
Turkish Airlines
TK1754 expand_more(4)
00:05
00:44
Landed
Oslo (OSL)
Icelandair
FI7017
00:05
00:44
Landed
Oslo (OSL)
IndiGo
6E4284
00:05
00:44
Landed
Oslo (OSL)
Pakistan International Airlines
PK5754
00:05
00:44
Landed
Oslo (OSL)
SAS
SK3413
00:05
00:44
Landed
Dublin (DUB)
Turkish Airlines
TK1978 expand_more(1)
00:10
23:45
Landed
Dublin (DUB)
IndiGo
6E4065
00:10
23:45
Landed
Baku (GYD)
Turkish Airlines
TK335 expand_more(2)
00:10
01:07
Landed
Baku (GYD)
Azerbaijan Airlines
J26335
00:10
01:07
Landed
Baku (GYD)
Egyptair
MS9305
00:10
01:07
Landed
Lefkosa (ECN)
Turkish Airlines
TK963
00:10
00:39
Landed
Gudja (MLA)
Turkish Airlines
TK1372 expand_more(2)
00:10
23:54
Landed
Gudja (MLA)
Air Malta
KM2702
00:10
23:54
Landed
Gudja (MLA)
IndiGo
6E4071
00:10
23:54
Landed
Lisbon (LIS)
Turkish Airlines
TK1760 expand_more(2)
00:10
23:49
Landed
Lisbon (LIS)
IndiGo
6E4193
00:10
23:49
Landed
Lisbon (LIS)
TAP Air Portugal
TP6452
00:10
23:49
Landed
Moscow (SVO)
Aeroflot
SU2138
00:10
00:54
Landed
Moscow (VKO)
Turkish Airlines
TK416
00:10
00:46
Landed
Prishtina (PRN)
Turkish Airlines
TK1020
00:10
01:37
Landed
Sarajevo (SJJ)
Turkish Airlines
TK1026
00:10
23:59
Landed
Podgorica (TGD)
Turkish Airlines
TK1088
00:10
23:59
Landed
Skopje (SKP)
Turkish Airlines
TK1006
00:15
23:57
Landed
Zagreb (ZAG)
Turkish Airlines
TK1056 expand_more(1)
00:15
01:29
Landed
Zagreb (ZAG)
Croatia Airlines
OU5352
00:15
01:29
Landed
Izmir (ADB)
Turkish Airlines
TK2343
00:20
01:35
Landed
Beirut (BEY)
Turkish Airlines
TK827 expand_more(1)
00:20
00:38
Landed
Beirut (BEY)
MEA
ME4827
00:20
00:38
Landed
Paris (CDG)
Turkish Airlines
TK1828 expand_more(2)
00:20
01:03
Landed
Paris (CDG)
Air Seychelles
HM6409
00:20
01:03
Landed
Paris (CDG)
Sichuan Airlines
3U7218
00:20
01:03
Landed
London (LHR)
British Airways
BA680 expand_more(1)
00:20
23:42
Landed
London (LHR)
American Airlines
AA7126
00:20
23:42
Landed
Ankara (ESB)
Turkish Airlines
TK2183 expand_more(3)
00:20
00:58
Landed
Ankara (ESB)
Air New Zealand
NZ4887
00:20
00:58
Landed
Ankara (ESB)
AirSERBIA
JU8186
00:20
00:58
Landed
Ankara (ESB)
Malaysia Airlines
MH4295
00:20
00:58
Landed
Thessaloniki (SKG)
Turkish Airlines
TK1894 expand_more(2)
00:20
00:25
Landed
Thessaloniki (SKG)
Aegean Airlines
A33158
00:20
00:25
Landed
Thessaloniki (SKG)
Malaysia Airlines
MH4348
00:20
00:25
Landed
Kayseri (ASR)
Turkish Airlines
TK6940
00:22
01:01
Landed
Kayseri (ASR)
Turkish Airlines
TK2019 expand_more(1)
00:30
Cancelled
Kayseri (ASR)
AirSERBIA
JU8069
00:30
Cancelled
Budapest (BUD)
Turkish Airlines
TK1038
00:30
00:34
Landed
Dalaman (DLM)
Turkish Airlines
TK2561 expand_more(2)
00:30
00:32
Landed
Dalaman (DLM)
AirSERBIA
JU8145
00:30
00:32
Landed
Dalaman (DLM)
SAS
SK3487
00:30
00:32
Landed
Rome (FCO)
Turkish Airlines
TK1864 expand_more(3)
00:30
00:48
Landed
Rome (FCO)
IndiGo
6E4184
00:30
00:48
Landed
Rome (FCO)
ITA Airways
AZ7034
00:30
00:48
Landed
Rome (FCO)
Pakistan International Airlines
PK5864
00:30
00:48
Landed
London (LHR)
Turkish Airlines
TK1972 expand_more(4)
00:30
00:09
Landed
London (LHR)
Air Canada
AC6704
00:30
00:09
Landed
London (LHR)
Avianca
AV6618
00:30
00:09
Landed
London (LHR)
Pakistan International Airlines
PK5972
00:30
00:09
Landed
London (LHR)
Sichuan Airlines
3U7202
00:30
00:09
Landed
Bari (BRI)
Turkish Airlines
TK1466
00:35
00:38
Landed
Diyarbakir (DIY)
Turkish Airlines
TK2613
00:35
00:57
Landed
Warsaw (WAW)
LOT
LO137 expand_more(1)
00:35
00:30
Landed
Warsaw (WAW)
Turkish Airlines
TK8161
00:35
00:30
Landed
Algiers (ALG)
Air Algerie
AH3014 expand_more(1)
00:40
00:22
Landed
Algiers (ALG)
Turkish Airlines
TK8874
00:40
00:22
Landed
Trabzon (TZX)
Turkish Airlines
TK2839 expand_more(1)
00:40
01:13
Landed
Trabzon (TZX)
AirSERBIA
JU8241
00:40
01:13
Landed
Antalya (AYT)
Turkish Airlines
TK2425 expand_more(1)
00:45
01:23
Landed
Antalya (AYT)
AirSERBIA
JU8097
00:45
01:23
Landed
Cairo (CAI)
Turkish Airlines
TK695 expand_more(1)
00:45
01:31
Landed
Cairo (CAI)
Egyptair
MS9295
00:45
01:31
Landed
Paris (CDG)
Turkish Airlines
TK6430
00:45
Unknown
Dubai (DXB)
flydubai
FZ755 expand_more(1)
00:45
01:04
Landed
Dubai (DXB)
Emirates
EK2214
00:45
01:04
Landed
Adana (ADA)
Turkish Airlines
TK2471 expand_more(1)
00:50
01:10
Landed
Adana (ADA)
AirSERBIA
JU8021
00:50
01:10
Landed
Oslo (OSL)
Turkish Cargo
TK6452
00:53
01:25
Landed
Linz (LNZ)
Turkish Cargo
TK6549
00:56
01:27
Landed
Madinah (MED)
Turkish Airlines
TK5173
01:00
01:20
Landed
Frankfurt (FRA)
Lufthansa Cargo
LH8346
01:10
02:05
Landed
Isabel Pass (ISL)
Turkish Airlines
TK6945
01:13
Cancelled
Istanbul (SAW)
Turkish Airlines
TK6944
01:13
03:36
Landed
Annaba (AAE)
Air Algerie
AH3020 expand_more(1)
01:15
00:44
Landed
Annaba (AAE)
Turkish Airlines
TK4590
01:15
00:44
Landed
Barcelona (BCN)
Turkish Airlines
TK6288
01:15
Unknown
Izmir (ADB)
Turkish Airlines
TK2341 expand_more(2)
01:25
Cancelled
Izmir (ADB)
AirSERBIA
JU8058
01:25
Cancelled
Izmir (ADB)
SAS
SK3477
01:25
Cancelled
Gaziantep (GZT)
Turkish Airlines
TK2227 expand_more(1)
01:35
02:17
Landed
Gaziantep (GZT)
AirSERBIA
JU8205
01:35
02:17
Landed
Amsterdam (AMS)
ULS Airlines Cargo
TK6560
01:55
03:11
Landed
Stockholm (ARN)
Turkish Cargo
TK6021
01:56
02:03
Landed
Miami (MIA)
Turkish Cargo
TK6264
02:00
02:01
Landed
Ankara (ESB)
Turkish Airlines
TK2185 expand_more(3)
02:15
01:59
Landed
Ankara (ESB)
AirSERBIA
JU8188
02:15
01:59
Landed
Ankara (ESB)
SAS
SK3447
02:15
01:59
Landed
Ankara (ESB)
Tarom
RO9188
02:15
01:59
Landed
New York (JFK)
Turkish Airlines
TK6276
02:20
Unknown
Mitiga (MJI)
Libyan Wings
YL100
02:30
02:14
Landed
London (LHR)
Turkish Airlines
TK1932 expand_more(2)
02:45
02:24
Landed
London (LHR)
Pakistan International Airlines
PK5932
02:45
02:24
Landed
London (LHR)
Sichuan Airlines
3U7234
02:45
02:24
Landed
Colombo (CMB)
Turkish Cargo
TK6284
02:51
03:44
Landed
Kuwait City (KWI)
Kuwait Airways
KU151 expand_more(1)
03:10
Cancelled
Kuwait City (KWI)
Turkish Airlines
TK8191
03:10
Cancelled
Amsterdam (AMS)
Turkish Airlines
TK1956 expand_more(4)
03:35
03:14
Landed
Amsterdam (AMS)
Gulf Air
GF6050
03:35
03:14
Landed
Amsterdam (AMS)
IndiGo
6E4036
03:35
03:14
Landed
Amsterdam (AMS)
MIAT Mongolian Airlines
OM1156
03:35
03:14
Landed
Amsterdam (AMS)
Pakistan International Airlines
PK5956
03:35
03:14
Landed
Madrid (MAD)
Turkish Cargo
TK6056
03:50
04:04
Landed
Madrid (MAD)
Turkish Cargo
TK6416
03:50
Unknown
Algiers (ALG)
Air Algerie
AH3018 expand_more(1)
04:05
03:50
Landed
Algiers (ALG)
Turkish Airlines
TK4598
04:05
03:50
Landed
Jebel Ali (DWC)
Turkish Airlines
TK6211
04:15
Unknown
Addis Ababa (ADD)
Ethiopian Airlines
ET720
04:35
04:46
Landed
Bishkek (FRU)
Turkish Airlines
TK6239
04:55
Unknown
Cape Town (CPT)
Turkish Airlines
TK45
05:00
04:30
Landed
Ho Chi Minh City (SGN)
Turkish Airlines
TK163
05:00
04:44
Landed
Miami (MIA)
Turkish Airlines
TK158 expand_more(1)
05:05
04:25
Landed
Miami (MIA)
Pakistan International Airlines
PK5158
05:05
04:25
Landed
London (LHR)
Turkish Airlines
TK1984 expand_more(7)
05:05
05:53
Landed
London (LHR)
Air Canada
AC6702
05:05
05:53
Landed
London (LHR)
Avianca
AV6616
05:05
05:53
Landed
London (LHR)
Icelandair
FI7001
05:05
05:53
Landed
London (LHR)
IndiGo
6E4051
05:05
05:53
Landed
London (LHR)
Pakistan International Airlines
PK5984
05:05
05:53
Landed
London (LHR)
Sichuan Airlines
3U7206
05:05
05:53
Landed
London (LHR)
United Airlines
UA6920
05:05
05:53
Landed
Moscow (SVO)
Aeroflot
SU2134
05:05
05:30
Landed
Nairobi (NBO)
Turkish Airlines
TK6512
05:05
Unknown
Tehran (IKA)
Turkish Airlines
TK875
05:10
05:06
Landed
Manama (BAH)
Turkish Airlines
TK6898
05:13
Delayed
Isfahan (IFN)
Turkish Airlines
TK893
05:15
05:09
Landed
Johannesburg (JNB)
Turkish Cargo
TK6659
05:15
05:56
Landed
Colombo (CMB)
Turkish Cargo
TK6548
05:30
Scheduled
Erbil (EBL)
Turkish Airlines
TK317
05:35
05:33
Landed
Phuket (HKT)
Turkish Airlines
TK173 expand_more(1)
05:40
05:26
Landed
Phuket (HKT)
Thai Airways
TG7547
05:40
05:26
Landed
Manama (BAH)
Turkish Airlines
TK779 expand_more(4)
05:45
05:44
Landed
Manama (BAH)
All Nippon Airways
NH6631
05:45
05:44
Landed
Manama (BAH)
Gulf Air
GF6079
05:45
05:44
Landed
Manama (BAH)
LOT
LO4638
05:45
05:44
Landed
Manama (BAH)
Singapore Airlines
SQ6279
05:45
05:44
Landed
Mashad (MHD)
Turkish Airlines
TK889
05:45
Cancelled
Ankara (ESB)
Turkish Ministry of Energy and Natural Resources
TK2187 expand_more(1)
05:45
05:23
Landed
Ankara (ESB)
Air New Zealand
NZ4879
05:45
05:23
Landed
Izmir (ADB)
Turkish Airlines
TK2349 expand_more(2)
05:50
05:17
Landed
Izmir (ADB)
LOT
LO4610
05:50
05:17
Landed
Izmir (ADB)
Tarom
RO9168
05:50
05:17
Landed
Bangkok (BKK)
Turkish Airlines
TK65 expand_more(1)
05:50
05:36
Landed
Bangkok (BKK)
Thai Airways
TG7543
05:50
05:36
Landed
Guangzhou (CAN)
Turkish Airlines
TK73
05:50
05:36
Landed
Algiers (ALG)
Turkish Airlines
TK656
05:55
05:48
Landed
Jakarta (CGK)
Turkish Airlines
TK57 expand_more(1)
05:55
05:27
Landed
Jakarta (CGK)
Garuda Indonesia
GA9094
05:55
05:27
Landed
Manila (MNL)
Turkish Airlines
TK85 expand_more(1)
05:55
05:43
Landed
Manila (MNL)
Philippine Airlines
PR3789
05:55
05:43
Landed
Kayseri (ASR)
Turkish Airlines
TK2023 expand_more(2)
06:00
05:45
Landed
Kayseri (ASR)
AirSERBIA
JU8073
06:00
05:45
Landed
Kayseri (ASR)
TAP Air Portugal
TP8811
06:00
05:45
Landed
Plaisance (MRU)
Turkish Airlines
TK177
06:00
04:58
Landed
Lefkosa (ECN)
Turkish Airlines
TK965
06:00
05:50
Landed
Abuja (ABV)
Turkish Airlines
TK624
06:05
Scheduled
Kuala Lumpur (KUL)
Turkish Airlines
TK61 expand_more(2)
06:05
05:41
Landed
Kuala Lumpur (KUL)
Batik Air Malaysia
OD9201
06:05
05:41
Landed
Kuala Lumpur (KUL)
Malaysia Airlines
MH4271
06:05
05:41
Landed
Taipei (TPE)
Turkish Airlines
TK25 expand_more(1)
06:05
05:33
Landed
Taipei (TPE)
EVA Air
BR2079
06:05
05:33
Landed
Antalya (AYT)
Turkish Airlines
TK2429 expand_more(3)
06:10
Scheduled
Antalya (AYT)
Finnair
AY3312
06:10
Scheduled
Antalya (AYT)
LOT
LO4624
06:10
Scheduled
Antalya (AYT)
TAP Air Portugal
TP8813
06:10
Scheduled
Bangkok (BKK)
Turkish Airlines
TK69 expand_more(1)
06:10
Scheduled
Bangkok (BKK)
Thai Airways
TG7545
06:10
Scheduled
Baghdad (BGW)
Turkish Airlines
TK303
06:10
05:47
Landed
St Petersburg (LED)
Turkish Airlines
TK404
06:10
Scheduled
Kuwait City (KWI)
Turkish Airlines
TK773 expand_more(2)
06:10
Delayed
Kuwait City (KWI)
Kuwait Airways
KU6773
06:10
Delayed
Kuwait City (KWI)
LOT
LO4632
06:10
Delayed
Moscow (VKO)
Turkish Airlines
TK412
06:10
Delayed
Singapore (SIN)
Turkish Airlines
TK55 expand_more(2)
06:10
Delayed
Singapore (SIN)
Royal Brunei Airlines
BI3610
06:10
Delayed
Singapore (SIN)
Singapore Airlines
SQ6267
06:10
Delayed
Adana (ADA)
Turkish Airlines
TK2475 expand_more(3)
06:15
Scheduled
Adana (ADA)
JetBlue Airways
B66945
06:15
Scheduled
Adana (ADA)
LOT
LO4614
06:15
Scheduled
Adana (ADA)
TAP Air Portugal
TP8862
06:15
Scheduled
Seoul (ICN)
Turkish Airlines
TK91 expand_more(1)
06:15
05:39
Landed
Seoul (ICN)
Asiana Airlines
OZ6931
06:15
05:39
Landed
Shanghai (PVG)
Turkish Airlines
TK27
06:15
Scheduled
Abu Dhabi (AUH)
Etihad Airways
EY99 expand_more(2)
06:20
Delayed
Abu Dhabi (AUH)
SriLankan Airlines
UL2699
06:20
Delayed
Abu Dhabi (AUH)
Turkish Airlines
TK8053
06:20
Delayed
Dushanbe (DYU)
Turkish Airlines
TK255
06:20
Scheduled
Isparta (ISE)
Turkish Airlines
TK2861
06:20
05:51
Landed
Houston (IAH)
Turkish Airlines
TK6362
06:20
Scheduled
Samsun (SZF)
Turkish Airlines
TK2819
06:20
05:53
Landed
Ashgabat (ASB)
Turkish Airlines
TK323
06:25
Scheduled
Aqaba (AQJ)
Turkish Airlines
TK832
06:25
Scheduled
Baku (GYD)
Turkish Airlines
TK337 expand_more(2)
06:25
Scheduled
Baku (GYD)
Azerbaijan Airlines
J26337
06:25
Scheduled
Baku (GYD)
Egyptair
MS9307
06:25
Scheduled
Mahe Island (SEZ)
Turkish Airlines
TK749 expand_more(1)
06:25
Scheduled
Mahe Island (SEZ)
Air Seychelles
HM6400
06:25
Scheduled
Shiraz (SYZ)
Turkish Airlines
TK885
06:25
Scheduled
Dammam (DMM)
Turkish Airlines
TK151
06:30
Scheduled
Johannesburg (JNB)
Turkish Airlines
TK39
06:30
Scheduled
Jeddah (JED)
Turkish Airlines
TK95
06:30
Scheduled
Tbilisi (TBS)
Turkish Airlines
TK387 expand_more(1)
06:30
Scheduled
Tbilisi (TBS)
Egyptair
MS9309
06:30
Scheduled
Beijing (PEK)
Turkish Airlines
TK89
06:35
Scheduled
New York (JFK)
Turkish Airlines
TK4 expand_more(5)
06:40
Scheduled
New York (JFK)
Avianca
AV6624
06:40
Scheduled
New York (JFK)
IndiGo
6E4270
06:40
Scheduled
New York (JFK)
Pakistan International Airlines
PK5004
06:40
Scheduled
New York (JFK)
Singapore Airlines
SQ6202
06:40
Scheduled
New York (JFK)
Uzbekistan Airways
HY7284
06:40
Scheduled
Gaziantep (GZT)
Turkish Airlines
TK2229 expand_more(1)
06:40
Delayed
Gaziantep (GZT)
AirSERBIA
JU8207
06:40
Delayed
Dubai (DXB)
Turkish Airlines
TK761 expand_more(2)
06:45
Delayed
Dubai (DXB)
All Nippon Airways
NH6647
06:45
Delayed
Dubai (DXB)
Royal Brunei Airlines
BI3602
06:45
Delayed
Tokyo (HND)
Turkish Airlines
TK199 expand_more(2)
06:45
Scheduled
Tokyo (HND)
All Nippon Airways
NH6635
06:45
Scheduled
Tokyo (HND)
Egyptair
MS9363
06:45
Scheduled
Accra (ACC)
Turkish Airlines
TK630 expand_more(1)
06:50
Delayed
Accra (ACC)
Singapore Airlines
SQ6230
06:50
Delayed
Doha (DOH)
Turkish Airlines
TK781
06:50
Scheduled
New Delhi (DEL)
Turkish Cargo
TK6563
06:50
Delayed
Muscat (MCT)
Turkish Airlines
TK775 expand_more(1)
06:50
Scheduled
Muscat (MCT)
Oman Air
WY5769
06:50
Scheduled
Beirut (BEY)
Turkish Airlines
TK829 expand_more(1)
06:55
Scheduled
Beirut (BEY)
MEA
ME4829
06:55
Scheduled
Kazan (KZN)
Turkish Airlines
TK428
06:55
Scheduled
Alexandria (HBE)
Turkish Airlines
TK697 expand_more(1)
06:55
Scheduled
Alexandria (HBE)
Egyptair
MS9297
06:55
Scheduled
Bishkek (FRU)
Turkish Airlines
TK347
06:55
Scheduled
Riyadh (RUH)
Turkish Airlines
TK141
06:55
Scheduled
Chicago (ORD)
Turkish Airlines
TK186 expand_more(4)
06:55
Delayed
Chicago (ORD)
IndiGo
6E4268
06:55
Delayed
Chicago (ORD)
MIAT Mongolian Airlines
OM1138
06:55
Delayed
Chicago (ORD)
Pakistan International Airlines
PK5186
06:55
Delayed
Chicago (ORD)
Uzbekistan Airways
HY7236
06:55
Delayed
Tashkent (TAS)
Turkish Airlines
TK371 expand_more(1)
06:55
Scheduled
Tashkent (TAS)
Uzbekistan Airways
HY7271
06:55
Scheduled
Abu Dhabi (AUH)
Turkish Airlines
TK869 expand_more(2)
07:00
Delayed
Abu Dhabi (AUH)
All Nippon Airways
NH6641
07:00
Delayed
Abu Dhabi (AUH)
Etihad Airways
EY4151
07:00
Delayed
Izmir (ADB)
Turkish Airlines
TK2355 expand_more(1)
07:15
06:48
Landed
Izmir (ADB)
TAP Air Portugal
TP8857
07:15
06:48
Landed
Moscow (VKO)
Turkish Airlines
TK422
07:25
Delayed
Cairo (CAI)
Turkish Airlines
TK693 expand_more(1)
07:30
07:15
Landed
Cairo (CAI)
Egyptair
MS9291
07:30
07:15
Landed
Hurghada (HRG)
Turkish Airlines
TK703 expand_more(2)
07:35
07:09
Landed
Hurghada (HRG)
Egyptair
MS9663
07:35
07:09
Landed
Hurghada (HRG)
Finnair
AY3320
07:35
07:09
Landed
Sharm El Sheikh (SSH)
Turkish Airlines
TK699 expand_more(2)
07:35
07:34
Landed
Sharm El Sheikh (SSH)
Egyptair
MS9662
07:35
07:34
Landed
Sharm El Sheikh (SSH)
Finnair
AY3324
07:35
07:34
Landed
Addis Ababa (ADD)
Turkish Airlines
TK677 expand_more(2)
07:40
08:00
Landed
Addis Ababa (ADD)
Ethiopian Airlines
ET1720
07:40
08:00
Landed
Addis Ababa (ADD)
Sichuan Airlines
3U7232
07:40
08:00
Landed
Tehran (IKA)
Turkish Airlines
TK873
07:40
07:11
Landed
Tbilisi (TBS)
Turkish Airlines
TK377
07:45
07:29
Landed
Ankara (ESB)
Turkish Airlines
TK2193 expand_more(1)
07:50
07:52
Landed
Ankara (ESB)
TAP Air Portugal
TP8854
07:50
07:52
Landed
Antalya (AYT)
Turkish Airlines
TK2427
07:55
07:17
Landed
Mumbai (BOM)
Turkish Airlines
TK6359
08:10
Unknown
Trabzon (TZX)
Turkish Airlines
TK2831
08:30
07:55
Landed
Shanghai (PVG)
China Eastern Airlines
MU703
08:30
08:27
Landed
Panama City (PTY)
Turkish Airlines
TK900
08:34
08:51
Landed
Tashkent (TAS)
Turkish Airlines
TK365 expand_more(1)
08:35
09:01
Landed
Tashkent (TAS)
Uzbekistan Airways
HY7319
08:35
09:01
Landed
Adana (ADA)
Turkish Airlines
TK2481 expand_more(1)
08:50
08:12
Landed
Adana (ADA)
AirSERBIA
JU8027
08:50
08:12
Landed
Caracas (CCS)
Turkish Airlines
TK183
09:05
09:32
Landed
Amman (AMM)
Turkish Airlines
TK815 expand_more(3)
09:10
08:56
Landed
Amman (AMM)
Finnair
AY3306
09:10
08:56
Landed
Amman (AMM)
LOT
LO4658
09:10
08:56
Landed
Amman (AMM)
Royal Jordanian
RJ3703
09:10
08:56
Landed
Bishkek (FRU)
Turkish Cargo
TK6245
09:11
08:48
Landed
Baghdad (BGW)
Turkish Airlines
TK803
09:20
09:06
Landed
Tabriz (TBZ)
Turkish Airlines
TK883
09:25
Diverted
Chisinau (KIV)
HiSky
H7421
09:30
09:20
Landed
Samarkand (SKD)
Turkish Airlines
TK373 expand_more(1)
09:30
09:17
Landed
Samarkand (SKD)
Uzbekistan Airways
HY7275
09:30
09:17
Landed
Cologne (CGN)
Chrono Jet
MB9394
09:35
Scheduled
Tehran (IKA)
Mahan Air
W5112
09:35
09:37
Landed
Tehran (IKA)
ATA Airlines
I36619
09:50
Unknown
Antalya (AYT)
Corendon Airlines
XC197
10:00
Unknown
Tehran (IKA)
Turkish Airlines
TK879
10:00
09:47
Landed
Adler Sochi (AER)
Azimuth
A45069
10:05
Delayed
Ankara (ESB)
Turkish Airlines
TK2123 expand_more(4)
10:15
09:55
Landed
Ankara (ESB)
AirSERBIA
JU8161
10:15
09:55
Landed
Ankara (ESB)
SAS
SK3439
10:15
09:55
Landed
Ankara (ESB)
Singapore Airlines
SQ6203
10:15
09:55
Landed
Ankara (ESB)
TAP Air Portugal
TP8843
10:15
09:55
Landed
Tehran (IKA)
Meraj Airlines
MRJ4805
10:15
Unknown
Nairobi (NBO)
CMA CGM Air Cargo
TK6638
10:16
11:41
Landed
Izmir (ADB)
Turkish Airlines
TK2311 expand_more(4)
10:20
09:44
Landed
Izmir (ADB)
AirSERBIA
JU8034
10:20
09:44
Landed
Izmir (ADB)
SAS
SK3424
10:20
09:44
Landed
Izmir (ADB)
Singapore Airlines
SQ6215
10:20
09:44
Landed
Izmir (ADB)
TAP Air Portugal
TP8805
10:20
09:44
Landed
Chennai Madras (MAA)
Turkish Cargo
TK6401
10:23
10:35
Landed
Erbil (EBL)
Turkish Airlines
TK805
10:25
09:58
Landed
Washington (IAD)
Turkish Airlines
TK188 expand_more(3)
10:30
10:04
Landed
Washington (IAD)
IndiGo
6E4263
10:30
10:04
Landed
Washington (IAD)
MIAT Mongolian Airlines
OM1134
10:30
10:04
Landed
Washington (IAD)
Pakistan International Airlines
PK5188
10:30
10:04
Landed
Baku (GYD)
Turkish Airlines
TK339 expand_more(2)
10:30
10:20
Landed
Baku (GYD)
Azerbaijan Airlines
J26339
10:30
10:20
Landed
Baku (GYD)
Egyptair
MS9671
10:30
10:20
Landed
Cancun (CUN)
Turkish Airlines
TK184
10:35
09:53
Landed
Madinah (MED)
Turkish Airlines
TK99
10:35
10:57
Landed
Athens (ATH)
Aegean Airlines
A3990 expand_more(1)
10:40
10:19
Landed
Athens (ATH)
Turkish Airlines
TK9190
10:40
10:19
Landed
St Petersburg (LED)
Turkish Airlines
TK406
10:40
Delayed
Antalya (AYT)
Turkish Airlines
TK2419
10:45
11:10
Landed
New Delhi (DEL)
IndiGo
6E11 expand_more(1)
10:45
11:49
Landed
New Delhi (DEL)
Turkish Airlines
TK4650
10:45
11:49
Landed
Jeddah (JED)
Turkish Airlines
TK97
10:45
11:32
Landed
Karachi (KHI)
Turkish Airlines
TK709 expand_more(1)
10:45
11:33
Landed
Karachi (KHI)
Pakistan International Airlines
PK5709
10:45
11:33
Landed
Manchester (MAN)
Turkish Airlines
TK3273
10:45
10:35
Landed
Houston (IAH)
Turkish Cargo
TK6388
10:48
10:49
Landed
Belgrade (BEG)
AirSERBIA
JU800 expand_more(1)
10:50
10:37
Landed
Belgrade (BEG)
Turkish Airlines
TK9090
10:50
10:37
Landed
Mumbai (BOM)
IndiGo
6E17 expand_more(1)
10:50
11:11
Landed
Mumbai (BOM)
Turkish Airlines
TK4751
10:50
11:11
Landed
Bishkek (FRU)
Turkish Cargo
TK6208
10:50
Delayed
Bucharest (OTP)
Tarom
RO261 expand_more(1)
10:50
10:47
Landed
Bucharest (OTP)
Turkish Airlines
TK8591
10:50
10:47
Landed
Denizli (DNZ)
Turkish Airlines
TK2579
10:55
10:39
Landed
Nizhniy Novgorod (GOJ)
Red Wings
WZ4657
10:55
10:22
Landed
Baku (GYD)
Azerbaijan Airlines
J275 expand_more(1)
10:55
10:51
Landed
Baku (GYD)
Turkish Airlines
TK8437
10:55
10:51
Landed
Tashkent (TAS)
Uzbekistan Airways
HY271 expand_more(1)
11:00
10:51
Landed
Tashkent (TAS)
Turkish Airlines
TK8574
11:00
10:51
Landed
Gaziantep (GZT)
Turkish Airlines
TK2221 expand_more(3)
11:10
Delayed
Gaziantep (GZT)
AirSERBIA
JU8199
11:10
Delayed
Gaziantep (GZT)
Royal Jordanian
RJ3739
11:10
Delayed
Gaziantep (GZT)
Singapore Airlines
SQ6221
11:10
Delayed
Adana (ADA)
Turkish Airlines
TK2459 expand_more(4)
11:15
10:59
Landed
Adana (ADA)
AirSERBIA
JU8011
11:15
10:59
Landed
Adana (ADA)
JetBlue Airways
B66946
11:15
10:59
Landed
Adana (ADA)
Royal Air Maroc
AT9422
11:15
10:59
Landed
Adana (ADA)
TAP Air Portugal
TP8803
11:15
10:59
Landed
Milas (BJV)
Turkish Airlines
TK2505 expand_more(3)
11:15
10:55
Landed
Milas (BJV)
AirSERBIA
JU8113
11:15
10:55
Landed
Milas (BJV)
Royal Air Maroc
AT9437
11:15
10:55
Landed
Milas (BJV)
SAS
SK3461
11:15
10:55
Landed
Vienna (VIE)
Turkish Airlines
TK1890 expand_more(1)
11:15
10:46
Landed
Vienna (VIE)
MIAT Mongolian Airlines
OM1126
11:15
10:46
Landed
Samsun (SZF)
Turkish Airlines
TK2807 expand_more(1)
11:15
11:21
Landed
Samsun (SZF)
Singapore Airlines
SQ6227
11:15
11:21
Landed
Merzifon (MZH)
Turkish Airlines
TK2855
11:15
10:53
Landed
Nevsehir (NAV)
Turkish Airlines
TK2007
11:15
10:45
Landed
Kayseri (ASR)
Turkish Airlines
TK2011 expand_more(3)
11:20
11:37
Landed
Kayseri (ASR)
AirSERBIA
JU8063
11:20
11:37
Landed
Kayseri (ASR)
Singapore Airlines
SQ6211
11:20
11:37
Landed
Kayseri (ASR)
TAP Air Portugal
TP8809
11:20
11:37
Landed
Dalaman (DLM)
Turkish Airlines
TK2553 expand_more(3)
11:20
11:01
Landed
Dalaman (DLM)
AirSERBIA
JU8137
11:20
11:01
Landed
Dalaman (DLM)
LOT
LO4620
11:20
11:01
Landed
Dalaman (DLM)
SAS
SK3433
11:20
11:01
Landed
Baghdad (BGW)
Turkish Airlines
TK6445
11:20
Scheduled
Islamabad (ISB)
Turkish Airlines
TK711 expand_more(1)
11:20
11:28
Landed
Islamabad (ISB)
Pakistan International Airlines
PK5711
11:20
11:28
Landed
Ankara (ESB)
Turkish Airlines
TK2127 expand_more(2)
11:20
11:14
Landed
Ankara (ESB)
Air New Zealand
NZ4881
11:20
11:14
Landed
Ankara (ESB)
TAP Air Portugal
TP8825
11:20
11:14
Landed
Konya (KYA)
Turkish Airlines
TK2033 expand_more(2)
11:20
11:05
Landed
Konya (KYA)
AirSERBIA
JU8213
11:20
11:05
Landed
Konya (KYA)
Singapore Airlines
SQ6293
11:20
11:05
Landed
Tunis (TUN)
Tunisair
TU214
11:20
11:21
Landed
Moscow (VKO)
Turkish Airlines
TK420
11:20
Delayed
Mumbai (BOM)
Turkish Airlines
TK721 expand_more(1)
11:25
11:35
Landed
Mumbai (BOM)
IndiGo
6E4103
11:25
11:35
Landed
Budapest (BUD)
Wizz Air
W62429
11:30
11:57
Landed
Basra (BSR)
Turkish Airlines
TK799
11:30
11:17
Landed
Benghazi (BEN)
Libyan Airlines
LN194
11:30
Scheduled
Bishkek (FRU)
Turkish Cargo
TK6525
11:30
Delayed
Riyadh (RUH)
Turkish Airlines
TK145
11:30
11:45
Landed
Doha (DOH)
Turkish Airlines
TK783
11:35
11:19
Landed
New Delhi (DEL)
Turkish Airlines
TK717 expand_more(1)
11:35
Delayed
New Delhi (DEL)
IndiGo
6E4101
11:35
Delayed
Rome (FCO)
Turkish Airlines
TK1362 expand_more(4)
11:35
11:05
Landed
Rome (FCO)
IndiGo
6E4182
11:35
11:05
Landed
Rome (FCO)
ITA Airways
AZ7030
11:35
11:05
Landed
Rome (FCO)
Oman Air
WY5766
11:35
11:05
Landed
Rome (FCO)
Pakistan International Airlines
PK5362
11:35
11:05
Landed
Lahore (LHE)
Turkish Airlines
TK715 expand_more(1)
11:35
11:56
Landed
Lahore (LHE)
Pakistan International Airlines
PK5715
11:35
11:56
Landed
Stuttgart (STR)
Turkish Airlines
TK1710
11:40
12:03
Landed
Thessaloniki (SKG)
Turkish Airlines
TK1882 expand_more(4)
11:40
11:19
Landed
Thessaloniki (SKG)
Aegean Airlines
A33156
11:40
11:19
Landed
Thessaloniki (SKG)
Finnair
AY3322
11:40
11:19
Landed
Thessaloniki (SKG)
Gulf Air
GF6064
11:40
11:19
Landed
Thessaloniki (SKG)
Malaysia Airlines
MH4346
11:40
11:19
Landed
Tirana (TIA)
Air Albania
ZB1001 expand_more(1)
11:40
11:11
Landed
Tirana (TIA)
Turkish Airlines
TK9248
11:40
11:11
Landed
Berlin (BER)
Turkish Airlines
TK1728 expand_more(2)
11:45
Cancelled
Berlin (BER)
Gulf Air
GF6068
11:45
Cancelled
Berlin (BER)
Malaysia Airlines
MH4350
11:45
Cancelled
Munich (MUC)
Turkish Airlines
TK1638 expand_more(2)
11:45
11:39
Landed
Munich (MUC)
Gulf Air
GF6060
11:45
11:39
Landed
Munich (MUC)
United Airlines
UA6914
11:45
11:39
Landed
Hamburg (HAM)
Turkish Airlines
TK1668 expand_more(1)
11:45
11:23
Landed
Hamburg (HAM)
Malaysia Airlines
MH4304
11:45
11:23
Landed
Tehran (IKA)
Mahan Air
W5116
11:45
Cancelled
Antalya (AYT)
Turkish Airlines
TK2411 expand_more(3)
11:50
12:02
Landed
Antalya (AYT)
AirSERBIA
JU8086
11:50
12:02
Landed
Antalya (AYT)
Royal Air Maroc
AT9434
11:50
12:02
Landed
Antalya (AYT)
TAP Air Portugal
TP8865
11:50
12:02
Landed
Doha (DOH)
ULS Airlines Cargo
QR8277
11:50
Delayed
Abidjan (ABJ)
Turkish Airlines
TK559 expand_more(2)
12:00
Delayed
Abidjan (ABJ)
Etihad Airways
EY4141
12:00
Delayed
Abidjan (ABJ)
Singapore Airlines
SQ6231
12:00
Delayed
Izmir (ADB)
Turkish Airlines
TK2313 expand_more(6)
12:00
11:34
Landed
Izmir (ADB)
AirSERBIA
JU8036
12:00
11:34
Landed
Izmir (ADB)
Asiana Airlines
OZ6936
12:00
11:34
Landed
Izmir (ADB)
Royal Jordanian
RJ3732
12:00
11:34
Landed
Izmir (ADB)
SAS
SK3407
12:00
11:34
Landed
Izmir (ADB)
Singapore Airlines
SQ6263
12:00
11:34
Landed
Izmir (ADB)
TAP Air Portugal
TP8856
12:00
11:34
Landed
Baghdad (BGW)
Iraqi Airways
IA215
12:00
11:53
Landed
Milan (MXP)
Turkish Airlines
TK1878 expand_more(3)
12:00
11:28
Landed
Milan (MXP)
IndiGo
6E4155
12:00
11:28
Landed
Milan (MXP)
Pakistan International Airlines
PK5878
12:00
11:28
Landed
Milan (MXP)
Royal Jordanian
RJ3723
12:00
11:28
Landed
Yaounde (NSI)
Turkish Airlines
TK667 expand_more(1)
12:05
Scheduled
Yaounde (NSI)
Etihad Airways
EY4156
12:05
Scheduled
Trabzon (TZX)
Turkish Airlines
TK2827 expand_more(2)
12:05
11:31
Landed
Trabzon (TZX)
AirSERBIA
JU8229
12:05
11:31
Landed
Trabzon (TZX)
Singapore Airlines
SQ6275
12:05
11:31
Landed
Moscow (VKO)
Pobeda
DP737
12:05
Scheduled
Almaty (ALA)
Turkish Cargo
TK6525
12:10
Scheduled
Adiyaman (ADF)
Turkish Airlines
TK2217
12:15
11:47
Landed
Ankara (ESB)
Turkish Airlines
TK2135 expand_more(4)
12:15
Scheduled
Ankara (ESB)
Air New Zealand
NZ4885
12:15
Scheduled
Ankara (ESB)
AirSERBIA
JU8163
12:15
Scheduled
Ankara (ESB)
Royal Air Maroc
AT9450
12:15
Scheduled
Ankara (ESB)
TAP Air Portugal
TP8853
12:15
Scheduled
Samarkand (SKD)
Qanot Sharq
HH573
12:15
Scheduled
Izmir (ADB)
Turkish Airlines
TK2317 expand_more(2)
12:20
Scheduled
Izmir (ADB)
AirSERBIA
JU8029
12:20
Scheduled
Izmir (ADB)
Royal Air Maroc
AT9428
12:20
Scheduled
Athens (ATH)
Turkish Airlines
TK1844 expand_more(5)
12:20
Scheduled
Athens (ATH)
Aegean Airlines
A33154
12:20
Scheduled
Athens (ATH)
Finnair
AY3332
12:20
Scheduled
Athens (ATH)
IndiGo
6E4037
12:20
Scheduled
Athens (ATH)
Pakistan International Airlines
PK5844
12:20
Scheduled
Athens (ATH)
Sichuan Airlines
3U7224
12:20
Scheduled
Doha (DOH)
Qatar Airways
QR239 expand_more(6)
12:20
Scheduled
Doha (DOH)
Cathay Pacific
CX9239
12:20
Scheduled
Doha (DOH)
Malaysia Airlines
MH9319
12:20
Scheduled
Doha (DOH)
Oman Air
WY6319
12:20
Scheduled
Doha (DOH)
RwandAir
WB1037
12:20
Scheduled
Doha (DOH)
SriLankan Airlines
UL3120
12:20
Scheduled
Doha (DOH)
Virgin Australia
VA6093
12:20
Scheduled
Chisinau (KIV)
Turkish Airlines
TK270
12:20
Scheduled
Nairobi (NBO)
Turkish Airlines
TK608 expand_more(2)
12:20
Scheduled
Nairobi (NBO)
All Nippon Airways
NH6640
12:20
Scheduled
Nairobi (NBO)
Asiana Airlines
OZ6956
12:20
Scheduled
Skopje (SKP)
Turkish Airlines
TK1004
12:20
11:55
Landed
Sofia (SOF)
Turkish Airlines
TK1028 expand_more(4)
12:20
Scheduled
Sofia (SOF)
Egyptair
MS9668
12:20
Scheduled
Sofia (SOF)
Finnair
AY3326
12:20
Scheduled
Sofia (SOF)
Royal Jordanian
RJ3710
12:20
Scheduled
Sofia (SOF)
Singapore Airlines
SQ6228
12:20
Scheduled
Milan (MXP)
Turkish Cargo
TK6397
12:20
Scheduled
Bukhara (BHK)
Uzbekistan Airways
HY285 expand_more(1)
12:25
Scheduled
Bukhara (BHK)
Turkish Airlines
TK8335
12:25
Scheduled
Frankfurt (FRA)
Turkish Airlines
TK1598 expand_more(1)
12:25
Scheduled
Frankfurt (FRA)
United Airlines
UA6906
12:25
Scheduled
Nantes (NTE)
Transavia
TO3420
12:25
11:41
Landed
Diyarbakir (DIY)
Turkish Airlines
TK2603
12:30
Scheduled
Madinah (MED)
Saudia
SV259
12:30
11:58
Landed
Mardin (MQM)
Turkish Airlines
TK2675
12:30
Scheduled
Budapest (BUD)
ULS Airlines Cargo
TK6625
12:33
Scheduled
Tehran (IKA)
Turkish Airlines
TK871
12:35
Scheduled
Mashad (MHD)
Iran Airtour
B99735
12:35
Scheduled
Dar Es Salaam (DAR)
Turkish Airlines
TK604
12:40
Delayed
Dubai (DXB)
Turkish Airlines
TK763 expand_more(2)
12:40
Scheduled
Dubai (DXB)
All Nippon Airways
NH6643
12:40
Scheduled
Dubai (DXB)
Royal Brunei Airlines
BI3604
12:40
Scheduled
Frankfurt (FRA)
Turkish Cargo
TK6404
12:40
Delayed
Podgorica (TGD)
Turkish Airlines
TK1086
12:40
Scheduled
Adler Sochi (AER)
Rossiya
SU6729
12:45
Scheduled
Beirut (BEY)
Turkish Airlines
TK831 expand_more(2)
12:45
Scheduled
Beirut (BEY)
LOT
LO4642
12:45
Scheduled
Beirut (BEY)
MEA
ME4831
12:45
Scheduled
Paris (CDG)
Turkish Airlines
TK1830 expand_more(3)
12:45
Scheduled
Paris (CDG)
Air Seychelles
HM6411
12:45
Scheduled
Paris (CDG)
IndiGo
6E4043
12:45
Scheduled
Paris (CDG)
Sichuan Airlines
3U7246
12:45
Scheduled
Prishtina (PRN)
Turkish Airlines
TK1018
12:45
Scheduled
Dubrovnik (DBV)
Turkish Ministry of Energy and Natural Resources
TK438 expand_more(1)
12:50
Scheduled
Dubrovnik (DBV)
Croatia Airlines
OU5356
12:50
Scheduled
Belgrade (BEG)
Turkish Airlines
TK1082 expand_more(1)
12:50
Delayed
Belgrade (BEG)
AirSERBIA
JU8003
12:50
Delayed
Kuwait City (KWI)
Kuwait Airways
KU155 expand_more(1)
12:50
Delayed
Kuwait City (KWI)
Turkish Airlines
TK8585
12:50
Delayed
Lefkosa (ECN)
Turkish Airlines
TK961
12:50
Scheduled
Dusseldorf (DUS)
Turkish Airlines
TK1530 expand_more(1)
12:50
Scheduled
Dusseldorf (DUS)
Pakistan International Airlines
PK5530
12:50
Scheduled
Bucharest (OTP)
Turkish Airlines
TK1044 expand_more(1)
12:50
Scheduled
Bucharest (OTP)
Tarom
RO9161
12:50
Scheduled
San Francisco (SFO)
Turkish Airlines
TK290 expand_more(2)
12:55
Scheduled
San Francisco (SFO)
IndiGo
6E4274
12:55
Scheduled
San Francisco (SFO)
Pakistan International Airlines
PK5290
12:55
Scheduled
Beirut (BEY)
MEA
ME265 expand_more(1)
13:00
Scheduled
Beirut (BEY)
Turkish Airlines
TK8165
13:00
Scheduled
Cairo (CAI)
Egyptair
MS737 expand_more(3)
13:00
Scheduled
Cairo (CAI)
Ethiopian Airlines
ET1465
13:00
Scheduled
Cairo (CAI)
Singapore Airlines
SQ6037
13:00
Scheduled
Cairo (CAI)
Turkish Airlines
TK4627
13:00
Scheduled
Mitiga (MJI)
Libyan Wings
YL102
13:00
Scheduled
Tehran (IKA)
Iran Aseman Airlines
EP512
13:00
Scheduled
Tashkent (TAS)
Turkish Airlines
TK369 expand_more(1)
13:00
Scheduled
Tashkent (TAS)
Uzbekistan Airways
HY7269
13:00
Scheduled
Izmir (ADB)
Pegasus
PC3304
13:05
12:37
Landed
Antalya (AYT)
Turkish Airlines
TK2409 expand_more(4)
13:10
12:32
Landed
Antalya (AYT)
AirSERBIA
JU8084
13:10
12:32
Landed
Antalya (AYT)
Finnair
AY3329
13:10
12:32
Landed
Antalya (AYT)
SAS
SK3436
13:10
12:32
Landed
Antalya (AYT)
Singapore Airlines
SQ6245
13:10
12:32
Landed
Ankara (ESB)
Turkish Airlines
TK2139 expand_more(6)
13:15
Scheduled
Ankara (ESB)
Air New Zealand
NZ4883
13:15
Scheduled
Ankara (ESB)
AirSERBIA
JU8165
13:15
Scheduled
Ankara (ESB)
Asiana Airlines
OZ6948
13:15
Scheduled
Ankara (ESB)
JetBlue Airways
B66929
13:15
Scheduled
Ankara (ESB)
Royal Air Maroc
AT9447
13:15
Scheduled
Ankara (ESB)
SAS
SK3469
13:15
Scheduled
Sivas (VAS)
Turkish Airlines
TK2659
13:15
12:40
Landed
Bangkok (BKK)
Turkish Airlines
TK59 expand_more(1)
13:20
Scheduled
Bangkok (BKK)
Thai Airways
TG7549
13:20
Scheduled
Brussels (BRU)
Turkish Airlines
TK1942 expand_more(3)
13:20
12:56
Landed
Brussels (BRU)
Gulf Air
GF6052
13:20
12:56
Landed
Brussels (BRU)
IndiGo
6E4039
13:20
12:56
Landed
Brussels (BRU)
MIAT Mongolian Airlines
OM1174
13:20
12:56
Landed
Zanzibar (ZNZ)
Turkish Airlines
TK567
13:20
Scheduled
Izmir (ADB)
Turkish Airlines
TK2319 expand_more(1)
13:25
12:54
Landed
Izmir (ADB)
AirSERBIA
JU8040
13:25
12:54
Landed
Tokat (TJK)
Turkish Airlines
TK2583
13:25
Scheduled
Dhaka (DAC)
Turkish Airlines
TK713
13:30
Delayed
Budapest (BUD)
Turkish Airlines
TK1036 expand_more(1)
13:30
Scheduled
Budapest (BUD)
Singapore Airlines
SQ6286
13:30
Scheduled
Bishkek (FRU)
Turkish Cargo
TK6223
13:30
Scheduled
London (LHR)
Turkish Airlines
TK1988 expand_more(4)
13:30
Scheduled
London (LHR)
IndiGo
6E4052
13:30
Scheduled
London (LHR)
Pakistan International Airlines
PK5988
13:30
Scheduled
London (LHR)
Sichuan Airlines
3U7238
13:30
Scheduled
London (LHR)
United Airlines
UA6922
13:30
Scheduled
Zagreb (ZAG)
Turkish Airlines
TK1054 expand_more(1)
13:30
Scheduled
Zagreb (ZAG)
Croatia Airlines
OU5350
13:30
Scheduled
Ordu (OGU)
Turkish Airlines
TK2849
13:30
Scheduled
Tbilisi (TBS)
Turkish Airlines
TK379 expand_more(1)
13:30
Scheduled
Tbilisi (TBS)
Egyptair
MS9361
13:30
Scheduled
Cairo (CAI)
Turkish Airlines
TK691 expand_more(3)
13:35
Delayed
Cairo (CAI)
AirSERBIA
JU8251
13:35
Delayed
Cairo (CAI)
Egyptair
MS9293
13:35
Delayed
Cairo (CAI)
LOT
LO4652
13:35
Delayed
Malatya (MLX)
Turkish Airlines
TK2631
13:35
Scheduled
Hatay (HTY)
Turkish Airlines
TK6966
13:38
Scheduled
Entebbe (EBB)
Turkish Airlines
TK606 expand_more(1)
13:40
Scheduled
Entebbe (EBB)
RwandAir
WB1251
13:40
Scheduled
Dubai (DXB)
Turkish Airlines
TK759 expand_more(2)
13:40
Scheduled
Dubai (DXB)
LOT
LO4648
13:40
Scheduled
Dubai (DXB)
Royal Brunei Airlines
BI3606
13:40
Scheduled
Ljubljana (LJU)
Turkish Airlines
TK1062 expand_more(1)
13:40
Scheduled
Ljubljana (LJU)
Egyptair
MS9678
13:40
Scheduled
London (LGW)
Wizz Air
W95729
13:40
12:38
Landed
Sharjah (SHJ)
DAT
G9321
13:40
Scheduled
Adana (ADA)
Turkish Airlines
TK2473 expand_more(1)
13:45
Scheduled
Adana (ADA)
AirSERBIA
JU8023
13:45
Scheduled
Kayseri (ASR)
Turkish Airlines
TK2017 expand_more(1)
13:45
Scheduled
Kayseri (ASR)
Asiana Airlines
OZ6944
13:45
Scheduled
Jeddah (JED)
Saudia
SV257 expand_more(2)
13:45
Scheduled
Jeddah (JED)
Aeroflot
SU4113
13:45
Scheduled
Jeddah (JED)
Garuda Indonesia
GA9675
13:45
Scheduled
Bishkek (FRU)
Turkish Airlines
TK345
13:45
Scheduled
Napoli (NAP)
Turkish Airlines
TK1454
13:45
Scheduled
Moscow (SVO)
Aeroflot
SU2130
13:45
Delayed
Almaty (ALA)
Turkish Cargo
TK6485
13:50
Scheduled
Manila (MNL)
Turkish Airlines
TK265
13:50
Delayed
Kuwait City (KWI)
Jazeera Airways
J9301
13:50
Scheduled
Kahramanmaras (KCM)
Turkish Airlines
TK2201
13:50
Scheduled
New York (JFK)
Turkish Airlines
TK2 expand_more(4)
13:55
Scheduled
New York (JFK)
Avianca
AV6632
13:55
Scheduled
New York (JFK)
IndiGo
6E4236
13:55
Scheduled
New York (JFK)
Pakistan International Airlines
PK5002
13:55
Scheduled
New York (JFK)
Uzbekistan Airways
HY7282
13:55
Scheduled
Tel Aviv Yafo (TLV)
Turkish Airlines
TK785
13:55
Scheduled
Gaziantep (GZT)
Turkish Airlines
TK2231 expand_more(1)
14:00
Scheduled
Gaziantep (GZT)
AirSERBIA
JU8209
14:00
Scheduled
Hatay (HTY)
Turkish Airlines
TK2267
14:00
Scheduled
Elazig (EZS)
Turkish Airlines
TK2643
14:00
Scheduled
Erzincan (ERC)
Turkish Airlines
TK2653
14:00
Scheduled
London (LHR)
British Airways
BA678
14:00
Scheduled
Almaty (ALA)
Turkish Airlines
TK353 expand_more(3)
14:05
Scheduled
Almaty (ALA)
Air Astana
KC1353
14:05
Scheduled
Almaty (ALA)
AirSERBIA
JU8291
14:05
Scheduled
Almaty (ALA)
Egyptair
MS9301
14:05
Scheduled
Erzurum (ERZ)
Turkish Airlines
TK2705
14:05
13:53
Landed
Misurata (MRA)
Berniq Airways
NB331
14:05
13:26
Landed
Podgorica (TGD)
Flexflight
W21544
14:05
Scheduled
Podgorica (TGD)
Air Montenegro
4O404
14:05
Scheduled
Alexandria (HBE)
Turkish Airlines
TK689 expand_more(1)
14:10
Cancelled
Alexandria (HBE)
Egyptair
MS9311
14:10
Cancelled
Gudja (MLA)
Turkish Airlines
TK1370 expand_more(2)
14:10
13:50
Landed
Gudja (MLA)
Air Malta
KM2700
14:10
13:50
Landed
Gudja (MLA)
IndiGo
6E4054
14:10
13:50
Landed
Erbil (EBL)
Turkish Airlines
TK6533
14:10
Scheduled
Podgorica (TGD)
Air Montenegro
4O1544
14:10
Scheduled
Milas (BJV)
Turkish Airlines
TK2523
14:15
Cancelled
Colombo (CMB)
Turkish Airlines
TK731
14:15
Scheduled
Trabzon (TZX)
Turkish Airlines
TK2829 expand_more(1)
14:15
Scheduled
Trabzon (TZX)
AirSERBIA
JU8231
14:15
Scheduled
Manama (BAH)
Gulf Air
GF43
14:20
Scheduled
Munich (MUC)
Turkish Airlines
TK1630 expand_more(2)
14:20
Scheduled
Munich (MUC)
Asiana Airlines
OZ6926
14:20
Scheduled
Munich (MUC)
United Airlines
UA6911
14:20
Scheduled
Tehran (IKA)
Qeshm Air
QB2213
14:20
Scheduled
Ouagadougou (OUA)
Turkish Airlines
TK538 expand_more(1)
14:20
Scheduled
Ouagadougou (OUA)
Singapore Airlines
SQ6240
14:20
Scheduled
Warsaw (WAW)
Turkish Airlines
TK1266 expand_more(1)
14:20
13:55
Landed
Warsaw (WAW)
LOT
LO4507
14:20
13:55
Landed
Prague (PRG)
Turkish Airlines
TK1768 expand_more(3)
14:20
Scheduled
Prague (PRG)
Egyptair
MS9666
14:20
Scheduled
Prague (PRG)
IndiGo
6E4055
14:20
Scheduled
Prague (PRG)
Uzbekistan Airways
HY7286
14:20
Scheduled
Venice (VCE)
Turkish Airlines
TK1868 expand_more(1)
14:20
Scheduled
Venice (VCE)
IndiGo
6E4160
14:20
Scheduled
Vienna (VIE)
Turkish Airlines
TK1884 expand_more(3)
14:20
Scheduled
Vienna (VIE)
Asiana Airlines
OZ6922
14:20
Scheduled
Vienna (VIE)
IndiGo
6E4061
14:20
Scheduled
Vienna (VIE)
MIAT Mongolian Airlines
OM1140
14:20
Scheduled
Dubai (DXB)
Emirates
EK123 expand_more(1)
14:25
Scheduled
Dubai (DXB)
Qantas
QF8123
14:25
Scheduled
Shimkent (CIT)
SCAT
DV485
14:30
Delayed
Diyarbakir (DIY)
Turkish Airlines
TK2607
14:30
Scheduled
Antalya (AYT)
Turkish Airlines
TK2415 expand_more(3)
14:45
Scheduled
Antalya (AYT)
AirSERBIA
JU8090
14:45
Scheduled
Antalya (AYT)
Royal Air Maroc
AT9436
14:45
Scheduled
Antalya (AYT)
SAS
SK3425
14:45
Scheduled
Minsk (MSQ)
Belavia
B2783
14:50
Scheduled
Tehran (IKA)
Mahan Air
W5113
14:50
Scheduled
Entebbe (EBB)
Turkish Cargo
TK6254
14:50
Scheduled
Riyadh (RUH)
Saudia
SV263 expand_more(1)
14:50
Scheduled
Riyadh (RUH)
Aeroflot
SU4115
14:50
Scheduled
Tivat (TIV)
Flexflight
W21518
14:50
Scheduled
Tivat (TIV)
Air Montenegro
4O1518
14:50
Scheduled
Tivat (TIV)
Air Montenegro
4O400
14:50
Scheduled
Tunis (TUN)
Nouvelair
BJ640
14:50
Scheduled
Tunis (TUN)
Nouvelair
BJ640
14:50
Scheduled
Kars (KSY)
Turkish Airlines
TK2715
14:55
Scheduled
Tehran (IKA)
Iran Airtour
B99700
15:00
Scheduled
Van (VAN)
Turkish Airlines
TK2751
15:00
Scheduled
Adana (ADA)
Turkish Airlines
TK2457
15:10
Scheduled
Ankara (ESB)
Turkish Airlines
TK2147 expand_more(2)
15:10
Scheduled
Ankara (ESB)
AirSERBIA
JU8169
15:10
Scheduled
Ankara (ESB)
Royal Air Maroc
AT9440
15:10
Scheduled
Moscow (SVO)
Aeroflot
SU2140
15:10
Scheduled
Algiers (ALG)
Air Algerie
AH3016 expand_more(1)
15:15
14:59
Landed
Algiers (ALG)
Turkish Airlines
TK4596
15:15
14:59
Landed
Izmir (ADB)
Turkish Airlines
TK2323
15:20
14:55
Landed
Moscow (DME)
S7 Airlines
S73749
15:20
Delayed
Batman (BAL)
Turkish Airlines
TK2683
15:25
Scheduled
Boston (BOS)
Turkish Airlines
TK82 expand_more(4)
15:25
Scheduled
Boston (BOS)
IndiGo
6E4225
15:25
Scheduled
Boston (BOS)
JetBlue Airways
B66900
15:25
Scheduled
Boston (BOS)
Pakistan International Airlines
PK5082
15:25
Scheduled
Boston (BOS)
Singapore Airlines
SQ6302
15:25
Scheduled
St Petersburg (LED)
Rossiya
SU6963
15:25
Delayed
Kazan (KZN)
Pobeda
DP973
15:25
16:21
Landed
Montreal (YUL)
Turkish Airlines
TK36 expand_more(2)
15:25
14:55
Landed
Montreal (YUL)
AirSERBIA
JU8279
15:25
14:55
Landed
Montreal (YUL)
Singapore Airlines
SQ6316
15:25
14:55
Landed
Adler Sochi (AER)
IrAero
IO5761
15:30
15:20
Landed
Benghazi (BEN)
Ghadames Air Transport
NJ213
15:30
Unknown
Milan (MXP)
Turkish Airlines
TK1874 expand_more(2)
15:30
15:39
Landed
Milan (MXP)
IndiGo
6E4156
15:30
Scheduled
Milan (MXP)
Pakistan International Airlines
PK5874
15:30
Scheduled
Moscow (SVO)
Aeroflot
SU2136
15:30
15:55
Landed
Moscow (VKO)
Pobeda
DP995
15:30
15:36
Landed
Detroit (DTW)
Turkish Airlines
TK206
15:35
16:11
Landed
Makhachkala (MCX)
Pobeda
DP941
15:35
15:28
Landed
Washington (IAD)
Turkish Airlines
TK8 expand_more(4)
15:40
15:20
Landed
Washington (IAD)
IndiGo
6E4221
15:40
Scheduled
Washington (IAD)
MIAT Mongolian Airlines
OM1132
15:40
Scheduled
Washington (IAD)
Pakistan International Airlines
PK5008
15:40
Scheduled
Washington (IAD)
Singapore Airlines
SQ6208
15:40
Scheduled
Tehran (IKA)
Turkish Airlines
TK881
15:40
15:25
Landed
Toronto (YYZ)
Turkish Airlines
TK18 expand_more(3)
15:40
16:09
Landed
Toronto (YYZ)
Air Canada
AC6680
15:40
Delayed
Toronto (YYZ)
AirSERBIA
JU8277
15:40
Delayed
Toronto (YYZ)
Singapore Airlines
SQ6308
15:40
Delayed
Antalya (AYT)
Turkish Airlines
TK2413 expand_more(3)
15:45
17:31
Landed
Antalya (AYT)
AirSERBIA
JU8088
15:45
Scheduled
Antalya (AYT)
Finnair
AY3328
15:45
Scheduled
Antalya (AYT)
Malaysia Airlines
MH4307
15:45
Scheduled
Bologna (BLQ)
Turkish Airlines
TK1322
15:45
15:10
Landed
Mitiga (MJI)
Berniq Airways
NB311
15:45
Unknown
Billund (BLL)
Turkish Airlines
TK1486 expand_more(1)
15:55
15:49
Landed
Billund (BLL)
SAS
SK3489
15:55
Scheduled
Male (MLE)
Turkish Airlines
TK735
15:55
15:50
Landed
Rome (FCO)
Turkish Airlines
TK1862 expand_more(4)
15:55
15:31
Landed
Rome (FCO)
IndiGo
6E4183
15:55
Scheduled
Rome (FCO)
ITA Airways
AZ7032
15:55
Scheduled
Rome (FCO)
Oman Air
WY5762
15:55
Scheduled
Rome (FCO)
Pakistan International Airlines
PK5862
15:55
Scheduled
Strasbourg (SXB)
Turkish Airlines
TK1456
15:55
15:47
Landed
Stuttgart (STR)
Turkish Airlines
TK1702 expand_more(1)
15:55
16:23
Landed
Stuttgart (STR)
Malaysia Airlines
MH4322
15:55
Delayed
Tunis (TUN)
Turkish Airlines
TK662
15:55
15:46
Landed
Siirt (SXZ)
Turkish Airlines
TK2657
15:55
15:43
Landed
Athens (ATH)
Aegean Airlines
A3992 expand_more(1)
16:00
15:42
Landed
Athens (ATH)
Turkish Airlines
TK9192
16:00
Scheduled
Kuala Lumpur (KUL)
Turkish Airlines
TK63 expand_more(2)
16:00
16:16
Landed
Kuala Lumpur (KUL)
Batik Air Malaysia
OD9213
16:00
Scheduled
Kuala Lumpur (KUL)
Malaysia Airlines
MH4269
16:00
Scheduled
Baku (GYD)
Turkish Airlines
TK333 expand_more(2)
16:00
16:03
Landed
Baku (GYD)
Azerbaijan Airlines
J26333
16:00
Scheduled
Baku (GYD)
Egyptair
MS9303
16:00
Scheduled
Lefkosa (ECN)
Turkish Airlines
TK977
16:00
Unknown
Berlin (BER)
Turkish Airlines
TK1722 expand_more(1)
16:05
15:52
Landed
Berlin (BER)
Malaysia Airlines
MH4306
16:05
15:52
Landed
Copenhagen (CPH)
Turkish Airlines
TK1784 expand_more(4)
16:05
16:07
Landed
Copenhagen (CPH)
IndiGo
6E4046
16:05
16:07
Landed
Copenhagen (CPH)
Oman Air
WY5752
16:05
16:07
Landed
Copenhagen (CPH)
Pakistan International Airlines
PK5784
16:05
16:07
Landed
Copenhagen (CPH)
SAS
SK3402
16:05
16:07
Landed
Hanover (HAJ)
Turkish Airlines
TK1554
16:05
16:43
Landed
Hamburg (HAM)
Turkish Airlines
TK1662 expand_more(1)
16:05
16:21
Landed
Hamburg (HAM)
Malaysia Airlines
MH4294
16:05
16:21
Landed
Chicago (ORD)
Turkish Airlines
TK6 expand_more(5)
16:05
Delayed
Chicago (ORD)
IndiGo
6E4217
16:05
Delayed
Chicago (ORD)
MIAT Mongolian Airlines
OM1136
16:05
Delayed
Chicago (ORD)
Pakistan International Airlines
PK5006
16:05
Delayed
Chicago (ORD)
Singapore Airlines
SQ6206
16:05
Delayed
Chicago (ORD)
Uzbekistan Airways
HY7278
16:05
Delayed
Vilnius (VNO)
Turkish Airlines
TK1408
16:05
16:57
Landed
Riga (RIX)
Turkish Airlines
TK1758 expand_more(1)
16:05
17:02
Landed
Riga (RIX)
Air Baltic
BT7440
16:05
17:02
Landed
Zurich (ZRH)
Turkish Airlines
TK1908 expand_more(5)
16:05
16:59
Landed
Zurich (ZRH)
Asiana Airlines
OZ6924
16:05
16:59
Landed
Zurich (ZRH)
IndiGo
6E4063
16:05
16:59
Landed
Zurich (ZRH)
MIAT Mongolian Airlines
OM1014
16:05
16:59
Landed
Zurich (ZRH)
Pakistan International Airlines
PK5908
16:05
16:59
Landed
Zurich (ZRH)
RwandAir
WB1289
16:05
16:59
Landed
Nürnberg (NUE)
Turkish Airlines
TK1504
16:05
16:26
Landed
Cologne (CGN)
Turkish Airlines
TK1672
16:10
15:57
Landed
Mulhouse basel (BSL)
Turkish Airlines
TK1924 expand_more(1)
16:10
16:07
Landed
Mulhouse basel (BSL)
IndiGo
6E4151
16:10
16:07
Landed
Leipzig-halle (LEJ)
Turkish Airlines
TK1338
16:10
15:55
Landed
Marseille (MRS)
Turkish Airlines
TK1366
16:10
15:59
Landed
Lyon (LYS)
Turkish Airlines
TK1808 expand_more(2)
16:10
15:51
Landed
Lyon (LYS)
IndiGo
6E4165
16:10
15:51
Landed
Lyon (LYS)
Malaysia Airlines
MH4338
16:10
15:51
Landed
Dusseldorf (DUS)
Turkish Airlines
TK1524 expand_more(2)
16:10
16:00
Landed
Dusseldorf (DUS)
Malaysia Airlines
MH4314
16:10
16:00
Landed
Dusseldorf (DUS)
Pakistan International Airlines
PK5524
16:10
16:00
Landed
Ankara (ESB)
Turkish Airlines
TK2151 expand_more(5)
16:15
15:57
Landed
Ankara (ESB)
AirSERBIA
JU8171
16:15
15:57
Landed
Ankara (ESB)
Asiana Airlines
OZ6950
16:15
15:57
Landed
Ankara (ESB)
LOT
LO4602
16:15
15:57
Landed
Ankara (ESB)
Royal Air Maroc
AT9442
16:15
15:57
Landed
Ankara (ESB)
Tarom
RO9182
16:15
15:57
Landed
Mitiga (MJI)
Ghadames Air Transport
NJ211
16:25
Unknown
Mitiga (MJI)
Afriqiyah Airways
8U970
16:30
Unknown
Mitiga (MJI)
Afriqiyah Airways
8U970
16:30
Unknown
Panama City (PTY)
Turkish Airlines
TK800 expand_more(1)
16:30
16:18
Landed
Panama City (PTY)
Copa Airlines
CM8101
16:30
16:18
Landed
Casablanca (CMN)
Royal Air Maroc
AT910 expand_more(1)
16:40
16:04
Landed
Casablanca (CMN)
Turkish Airlines
TK8304
16:40
16:04
Landed
Milan (MXP)
Turkish Cargo
TK6398
16:48
Unknown
Belgrade (BEG)
AirSERBIA
JU802 expand_more(1)
16:50
16:30
Landed
Belgrade (BEG)
Turkish Airlines
TK9502
16:50
16:30
Landed
Paris (CDG)
Turkish Airlines
TK1822 expand_more(4)
16:50
17:03
Landed
Paris (CDG)
Air Seychelles
HM6403
16:50
17:03
Landed
Paris (CDG)
IndiGo
6E4044
16:50
17:03
Landed
Paris (CDG)
Sichuan Airlines
3U7212
16:50
17:03
Landed
Paris (CDG)
United Airlines
UA6923
16:50
17:03
Landed
Mardin (MQM)
Turkish Airlines
TK2679
16:50
Cancelled
Algiers (ALG)
Turkish Airlines
TK652 expand_more(1)
16:55
16:24
Landed
Algiers (ALG)
Air Algerie
AH3904
16:55
16:24
Landed
Amsterdam (AMS)
KLM
KL1613 expand_more(2)
16:55
16:37
Landed
Amsterdam (AMS)
Delta Air Lines
DL9622
16:55
16:37
Landed
Amsterdam (AMS)
Kenya Airways
KQ1613
16:55
16:37
Landed
Brussels (BRU)
Turkish Airlines
TK1938 expand_more(2)
16:55
17:24
Landed
Brussels (BRU)
IndiGo
6E4040
16:55
17:24
Landed
Brussels (BRU)
MIAT Mongolian Airlines
OM1170
16:55
17:24
Landed
Adana (ADA)
Turkish Airlines
TK2461 expand_more(1)
17:00
16:28
Landed
Adana (ADA)
AirSERBIA
JU8013
17:00
16:28
Landed
Moscow (VKO)
Pobeda
DP993
17:00
17:00
Landed
Paris (CDG)
Air France
AF1390 expand_more(4)
17:05
16:33
Landed
Paris (CDG)
Delta Air Lines
DL8195
17:05
16:33
Landed
Paris (CDG)
GOL Linhas Aereas
G35120
17:05
16:33
Landed
Paris (CDG)
Jet Linx Aviation
JL5319
17:05
16:33
Landed
Paris (CDG)
KLM
KL2352
17:05
16:33
Landed
Frankfurt (FRA)
Turkish Airlines
TK1588 expand_more(1)
17:05
16:53
Landed
Frankfurt (FRA)
United Airlines
UA6903
17:05
16:53
Landed
Tallinn (TLL)
Turkish Airlines
TK1422 expand_more(1)
17:05
17:38
Landed
Tallinn (TLL)
Singapore Airlines
SQ6272
17:05
17:38
Landed
Moscow (SVO)
Aeroflot
SU2132
17:05
Delayed
Singapore (SIN)
Turkish Airlines
TK209 expand_more(1)
17:05
Delayed
Singapore (SIN)
Royal Brunei Airlines
BI3614
17:05
Delayed
Jeddah (JED)
Saudia
SV275
17:10
17:05
Landed
Mitiga (MJI)
Malta MedAir
YI500
17:10
Unknown
Antalya (AYT)
Turkish Airlines
TK2423
17:15
17:33
Landed
London (LGW)
Turkish Airlines
TK1982 expand_more(3)
17:15
17:37
Landed
London (LGW)
IndiGo
6E4049
17:15
17:37
Landed
London (LGW)
Pakistan International Airlines
PK5982
17:15
17:37
Landed
London (LGW)
Sichuan Airlines
3U7242
17:15
17:37
Landed
Ankara (ESB)
Turkish Airlines
TK2153
17:15
17:10
Landed
Sharjah (SHJ)
Air Arabia
G9287
17:15
Cancelled
Stockholm (ARN)
Turkish Airlines
TK1794 expand_more(3)
17:20
17:14
Landed
Stockholm (ARN)
IndiGo
6E4305
17:20
17:14
Landed
Stockholm (ARN)
Pakistan International Airlines
PK5794
17:20
17:14
Landed
Stockholm (ARN)
SAS
SK3418
17:20
17:14
Landed
Amsterdam (AMS)
Turkish Airlines
TK1952 expand_more(5)
17:20
17:05
Landed
Amsterdam (AMS)
IndiGo
6E4035
17:20
17:05
Landed
Amsterdam (AMS)
MIAT Mongolian Airlines
OM1152
17:20
17:05
Landed
Amsterdam (AMS)
Pakistan International Airlines
PK5952
17:20
17:05
Landed
Amsterdam (AMS)
RwandAir
WB1258
17:20
17:05
Landed
Amsterdam (AMS)
United Airlines
UA6927
17:20
17:05
Landed
Dallas (DFW)
Turkish Airlines
TK192 expand_more(1)
17:20
17:01
Landed
Dallas (DFW)
Pakistan International Airlines
PK5192
17:20
17:01
Landed
Barcelona (BCN)
Turkish Airlines
TK1854 expand_more(3)
17:20
17:17
Landed
Barcelona (BCN)
Avianca
AV6622
17:20
17:17
Landed
Barcelona (BCN)
IndiGo
6E4146
17:20
17:17
Landed
Barcelona (BCN)
Uzbekistan Airways
HY7294
17:20
17:17
Landed
Vantaa (HEL)
Turkish Airlines
TK1762 expand_more(3)
17:20
16:55
Landed
Vantaa (HEL)
Finnair
AY3301
17:20
16:55
Landed
Vantaa (HEL)
IndiGo
6E4277
17:20
16:55
Landed
Vantaa (HEL)
SAS
SK3423
17:20
16:55
Landed
Izmir (ADB)
Turkish Airlines
TK2325 expand_more(4)
17:25
16:57
Landed
Izmir (ADB)
AirSERBIA
JU8044
17:25
16:57
Landed
Izmir (ADB)
Royal Jordanian
RJ3740
17:25
16:57
Landed
Izmir (ADB)
SAS
SK3465
17:25
16:57
Landed
Izmir (ADB)
Tarom
RO9166
17:25
16:57
Landed
New York (JFK)
Turkish Airlines
TK12 expand_more(5)
17:25
17:18
Landed
New York (JFK)
Avianca
AV6634
17:25
17:18
Landed
New York (JFK)
IndiGo
6E4237
17:25
17:18
Landed
New York (JFK)
JetBlue Airways
B66902
17:25
17:18
Landed
New York (JFK)
Pakistan International Airlines
PK5012
17:25
17:18
Landed
New York (JFK)
Uzbekistan Airways
HY7292
17:25
17:18
Landed
Mus (MSR)
Turkish Airlines
TK2693
17:30
17:08
Landed
Dubai (DXB)
flydubai
FZ727 expand_more(1)
17:30
Delayed
Dubai (DXB)
Emirates
EK2094
17:30
Delayed
Warsaw (WAW)
LOT
LO135 expand_more(1)
17:30
17:07
Landed
Warsaw (WAW)
Turkish Airlines
TK8149
17:30
17:07
Landed
Tabriz (TBZ)
ATA Airlines
I36601
17:30
Scheduled
Groznyj (GRV)
UTair
UT727
17:35
17:42
Landed
Van (VAN)
Turkish Airlines
TK2753
17:35
17:15
Landed
Adler Sochi (AER)
Azimuth
A45071
17:40
Scheduled
Seattle (SEA)
Turkish Airlines
TK204
17:40
17:26
Landed
Paris (CDG)
Turkish Airlines
TK1832
17:45
Delayed
London (LHR)
British Airways
BA676 expand_more(1)
17:45
17:28
Landed
London (LHR)
American Airlines
AA6613
17:45
17:28
Landed
Gaziantep (GZT)
Turkish Airlines
TK2223 expand_more(2)
17:45
Delayed
Gaziantep (GZT)
AirSERBIA
JU8201
17:45
Delayed
Gaziantep (GZT)
Royal Jordanian
RJ3726
17:45
Delayed
Cairo (CAI)
Egyptair
MS735 expand_more(4)
17:50
17:44
Landed
Cairo (CAI)
Ethiopian Airlines
ET1467
17:50
17:44
Landed
Cairo (CAI)
Kenya Airways
KQ4702
17:50
17:44
Landed
Cairo (CAI)
Singapore Airlines
SQ6035
17:50
17:44
Landed
Cairo (CAI)
Turkish Airlines
TK4625
17:50
17:44
Landed
Miami (MIA)
Turkish Airlines
TK78 expand_more(2)
17:50
17:40
Landed
Miami (MIA)
Pakistan International Airlines
PK5078
17:50
17:40
Landed
Miami (MIA)
Singapore Airlines
SQ6298
17:50
17:40
Landed
Athens (ATH)
Turkish Airlines
TK1850 expand_more(4)
17:55
17:50
Landed
Athens (ATH)
Aegean Airlines
A33152
17:55
17:50
Landed
Athens (ATH)
IndiGo
6E4038
17:55
17:50
Landed
Athens (ATH)
Pakistan International Airlines
PK5850
17:55
17:50
Landed
Athens (ATH)
Sichuan Airlines
3U7228
17:55
17:50
Landed
Konya (KYA)
Turkish Airlines
TK2037 expand_more(1)
17:55
17:40
Landed
Konya (KYA)
AirSERBIA
JU8215
17:55
17:40
Landed
Bucharest (OTP)
Turkish Airlines
TK1040 expand_more(1)
17:55
17:33
Landed
Bucharest (OTP)
Tarom
RO9165
17:55
17:33
Landed
Manises (VLC)
Turkish Airlines
TK1302 expand_more(1)
17:55
17:21
Landed
Manises (VLC)
IndiGo
6E4150
17:55
17:21
Landed
Oslo (OSL)
Turkish Airlines
TK1752 expand_more(3)
17:55
17:30
Landed
Oslo (OSL)
IndiGo
6E4283
17:55
17:30
Landed
Oslo (OSL)
Pakistan International Airlines
PK5752
17:55
17:30
Landed
Oslo (OSL)
SAS
SK3411
17:55
17:30
Landed
Moscow (VKO)
Turkish Airlines
TK414
17:55
Delayed
Budapest (BUD)
Turkish Airlines
TK1034 expand_more(1)
18:00
Delayed
Budapest (BUD)
Royal Jordanian
RJ3734
18:00
Delayed
Houston (IAH)
Turkish Airlines
TK34 expand_more(2)
18:00
Delayed
Houston (IAH)
Pakistan International Airlines
PK5034
18:00
Delayed
Houston (IAH)
Singapore Airlines
SQ6234
18:00
Delayed
Madinah (MED)
Turkish Airlines
TK109
18:00
17:47
Landed
Chisinau (KIV)
Turkish Airlines
TK274
18:00
Delayed
Panama City (PTY)
Turkish Airlines
TK904 expand_more(1)
18:00
Scheduled
Panama City (PTY)
Copa Airlines
CM8112
18:00
Scheduled
Tokyo (NRT)
Turkish Airlines
TK51 expand_more(2)
18:00
Scheduled
Tokyo (NRT)
All Nippon Airways
NH6637
18:00
Scheduled
Tokyo (NRT)
Egyptair
MS9359
18:00
Scheduled
Birmingham (BHX)
Turkish Airlines
TK1968 expand_more(2)
18:05
17:35
Landed
Birmingham (BHX)
IndiGo
6E4175
18:05
17:35
Landed
Birmingham (BHX)
Pakistan International Airlines
PK5968
18:05
17:35
Landed
Casablanca (CMN)
Turkish Airlines
TK6918
18:05
Delayed
Madrid (MAD)
Turkish Airlines
TK1858 expand_more(4)
18:10
Scheduled
Madrid (MAD)
Air Europa
UX3901
18:10
Scheduled
Madrid (MAD)
Avianca
AV6610
18:10
Scheduled
Madrid (MAD)
IndiGo
6E4148
18:10
Scheduled
Madrid (MAD)
Uzbekistan Airways
HY7288
18:10
Scheduled
Nevsehir (NAV)
Turkish Airlines
TK2005
18:10
17:49
Landed
Samsun (SZF)
Turkish Airlines
TK2809
18:10
Cancelled
Kayseri (ASR)
Turkish Airlines
TK2013 expand_more(1)
18:15
17:51
Landed
Kayseri (ASR)
AirSERBIA
JU8065
18:15
17:51
Landed
Frankfurt (FRA)
Lufthansa
LH1298 expand_more(3)
18:15
Scheduled
Frankfurt (FRA)
Air Canada
AC9439
18:15
Scheduled
Frankfurt (FRA)
All Nippon Airways
NH5881
18:15
Scheduled
Frankfurt (FRA)
United Airlines
UA9126
18:15
Scheduled
Ankara (ESB)
Turkish Airlines
TK2159 expand_more(2)
18:15
Scheduled
Ankara (ESB)
Air New Zealand
NZ4893
18:15
Scheduled
Ankara (ESB)
AirSERBIA
JU8175
18:15
Scheduled
London (LHR)
Turkish Airlines
TK1980 expand_more(5)
18:15
Scheduled
London (LHR)
Air Canada
AC6700
18:15
Scheduled
London (LHR)
IndiGo
6E4053
18:15
Scheduled
London (LHR)
Pakistan International Airlines
PK5980
18:15
Scheduled
London (LHR)
Sichuan Airlines
3U7204
18:15
Scheduled
London (LHR)
United Airlines
UA6919
18:15
Scheduled
Newark (EWR)
Turkish Airlines
TK30
18:20
17:44
Landed
Lefkosa (ECN)
Turkish Airlines
TK969
18:20
Scheduled
Trabzon (TZX)
Turkish Airlines
TK2835 expand_more(1)
18:20
Scheduled
Trabzon (TZX)
AirSERBIA
JU8237
18:20
Scheduled
Belgrade (BEG)
Turkish Airlines
TK1080 expand_more(1)
18:25
Scheduled
Belgrade (BEG)
AirSERBIA
JU8001
18:25
Scheduled
Manchester (MAN)
Turkish Airlines
TK1994 expand_more(2)
18:25
Scheduled
Manchester (MAN)
IndiGo
6E4173
18:25
Scheduled
Manchester (MAN)
Pakistan International Airlines
PK5994
18:25
Scheduled
Kathmandu (KTM)
Turkish Airlines
TK727
18:25
Scheduled
Sofia (SOF)
Turkish Airlines
TK1032
18:25
17:59
Landed
Vienna (VIE)
Turkish Airlines
TK1886 expand_more(2)
18:25
Scheduled
Vienna (VIE)
IndiGo
6E4062
18:25
Scheduled
Vienna (VIE)
MIAT Mongolian Airlines
OM1122
18:25
Scheduled
Adana (ADA)
Turkish Airlines
TK2463 expand_more(2)
18:30
Delayed
Adana (ADA)
AirSERBIA
JU8015
18:30
Delayed
Adana (ADA)
JetBlue Airways
B66947
18:30
Delayed
Antalya (AYT)
Turkish Airlines
TK2431 expand_more(1)
18:30
17:59
Landed
Antalya (AYT)
AirSERBIA
JU8101
18:30
17:59
Landed
Kahramanmaras (KCM)
Turkish Ministry of Energy and Natural Resources
TK2205
18:30
Scheduled
Dubai (DXB)
Emirates
EK121 expand_more(1)
18:30
Scheduled
Dubai (DXB)
Qantas
QF8121
18:30
Scheduled
Ordu (OGU)
Turkish Airlines
TK2851
18:30
Scheduled
Doha (DOH)
Qatar Airways
QR245 expand_more(6)
18:35
Scheduled
Doha (DOH)
Cathay Pacific
CX9265
18:35
Scheduled
Doha (DOH)
Malaysia Airlines
MH9321
18:35
Scheduled
Doha (DOH)
Oman Air
WY6321
18:35
Scheduled
Doha (DOH)
RwandAir
WB1040
18:35
Scheduled
Doha (DOH)
SriLankan Airlines
UL3126
18:35
Scheduled
Doha (DOH)
Virgin Australia
VA6095
18:35
Scheduled
San Francisco (SFO)
Turkish Airlines
TK80 expand_more(2)
18:35
Scheduled
San Francisco (SFO)
IndiGo
6E4273
18:35
Scheduled
San Francisco (SFO)
Pakistan International Airlines
PK5080
18:35
Scheduled
Milas (BJV)
Turkish Airlines
TK2507 expand_more(1)
18:40
Scheduled
Milas (BJV)
AirSERBIA
JU8115
18:40
Scheduled
Bucharest (OTP)
Tarom
RO263 expand_more(1)
18:40
Scheduled
Bucharest (OTP)
Turkish Airlines
TK8593
18:40
Scheduled
Porto (OPO)
Turkish Airlines
TK1450 expand_more(2)
18:40
Delayed
Porto (OPO)
IndiGo
6E4169
18:40
Delayed
Porto (OPO)
TAP Air Portugal
TP6456
18:40
Delayed
Malaga (AGP)
Turkish Airlines
TK1304
18:45
Scheduled
Dalaman (DLM)
Turkish Airlines
TK2563 expand_more(1)
18:45
Scheduled
Dalaman (DLM)
Royal Jordanian
RJ3724
18:45
Scheduled
Los Angeles (LAX)
Turkish Airlines
TK10 expand_more(3)
18:45
Scheduled
Los Angeles (LAX)
Air New Zealand
NZ4855
18:45
Scheduled
Los Angeles (LAX)
Pakistan International Airlines
PK5010
18:45
Scheduled
Los Angeles (LAX)
Uzbekistan Airways
HY7280
18:45
Scheduled
Dublin (DUB)
Turkish Airlines
TK1976 expand_more(1)
18:45
Scheduled
Dublin (DUB)
IndiGo
6E4048
18:45
Scheduled
Batumi (BUS)
Turkish Airlines
TK393
18:50
Scheduled
Maastricht (MST)
Turkish Airlines
TK6305
18:50
Scheduled
Mashad (MHD)
Turkish Airlines
TK6889
18:50
Delayed
Aktau (SCO)
FlyArystan
KC7625
18:55
Scheduled
Diyarbakir (DIY)
Turkish Airlines
TK2611
19:00
Scheduled
Beirut (BEY)
MEA
ME267 expand_more(1)
19:00
Scheduled
Beirut (BEY)
Turkish Airlines
TK8167
19:00
Scheduled
Dubai (DXB)
Turkish Airlines
TK765 expand_more(1)
19:00
Scheduled
Dubai (DXB)
Royal Brunei Airlines
BI3622
19:00
Scheduled
St Petersburg (LED)
Turkish Airlines
TK402
19:05
18:51
Landed
Ankara (ESB)
Turkish Airlines
TK2163 expand_more(3)
19:15
Scheduled
Ankara (ESB)
Air New Zealand
NZ4889
19:15
Scheduled
Ankara (ESB)
AirSERBIA
JU8177
19:15
Scheduled
Ankara (ESB)
Tarom
RO9170
19:15
Scheduled
Destination
Airline
Flight no.
Scheduled
Est./Actual
Status
Nizhny Novgorod (GOJ)
Red Wings
WZ4658
00:05
00:22
En-Route
Bucharest (OTP)
Tarom
RO266 expand_more(1)
00:15
00:53
En-Route
Bucharest (OTP)
Turkish Airlines
TK8598
00:15
00:53
En-Route
Algiers (ALG)
Turkish Cargo
TK6397
00:20
Scheduled
Tbilisi (TBS)
Turkish Airlines
TK386 expand_more(1)
00:45
01:02
En-Route
Tbilisi (TBS)
Egyptair
MS9308
00:45
01:02
En-Route
Hurghada (HRG)
Turkish Airlines
TK702 expand_more(2)
00:55
01:04
En-Route
Hurghada (HRG)
Egyptair
MS9664
00:55
01:04
En-Route
Hurghada (HRG)
Finnair
AY3321
00:55
01:04
En-Route
Izmir (ADB)
Turkish Airlines
TK2348
01:00
Cancelled
Ankara (ESB)
Turkish Airlines
TK2186 expand_more(3)
01:00
Scheduled
Ankara (ESB)
Air New Zealand
NZ4884
01:00
Scheduled
Ankara (ESB)
AirSERBIA
JU8190
01:00
Scheduled
Ankara (ESB)
Royal Air Maroc
AT9441
01:00
Scheduled
Muscat (MCT)
Oman Air
WY166 expand_more(1)
01:00
01:37
En-Route
Muscat (MCT)
Turkish Airlines
TK4612
01:00
01:37
En-Route
Almaty (ALA)
Turkish Airlines
TK352 expand_more(2)
01:10
01:38
En-Route
Almaty (ALA)
Air Astana
KC1352
01:10
01:38
En-Route
Almaty (ALA)
Egyptair
MS9300
01:10
01:38
En-Route
Cairo (CAI)
Turkish Airlines
TK692 expand_more(2)
01:10
01:43
En-Route
Cairo (CAI)
AirSERBIA
JU8267
01:10
01:43
En-Route
Cairo (CAI)
Egyptair
MS9290
01:10
01:43
En-Route
Bishkek (FRU)
Turkish Airlines
TK344
01:10
01:31
En-Route
Kathmandu (KTM)
Turkish Airlines
TK726
01:10
01:29
En-Route
Sharm el-Sheikh (SSH)
Turkish Airlines
TK698 expand_more(2)
01:10
01:35
En-Route
Sharm el-Sheikh (SSH)
Egyptair
MS9661
01:10
01:35
En-Route
Sharm el-Sheikh (SSH)
Finnair
AY3325
01:10
01:35
En-Route
Turkistan (HSA)
Turkish Airlines
TK256
01:20
Unknown
Moscow (SVO)
Aeroflot
SU2139
01:20
02:35
En-Route
Astana (NQZ)
Turkish Airlines
TK356 expand_more(1)
01:20
01:40
En-Route
Astana (NQZ)
Air Astana
KC1356
01:20
01:40
En-Route
Alexandria (HBE)
Turkish Airlines
TK696 expand_more(1)
01:25
01:48
En-Route
Alexandria (HBE)
Egyptair
MS9296
01:25
01:48
En-Route
Beirut (BEY)
Turkish Airlines
TK828 expand_more(1)
01:30
01:56
En-Route
Beirut (BEY)
MEA
ME4828
01:30
01:56
En-Route
Doha (DOH)
Turkish Airlines
TK782
01:30
01:41
En-Route
Johannesburg (JNB)
Turkish Airlines
TK42
01:30
02:20
En-Route
Jeddah (JED)
Turkish Airlines
TK96
01:30
02:38
En-Route
Tehran (IKA)
Turkish Airlines
TK878
01:30
02:08
En-Route
Manchester (MAN)
Turkish Airlines
TK3272
01:30
01:48
En-Route
Tashkent (TAS)
Turkish Airlines
TK368 expand_more(1)
01:30
02:17
En-Route
Tashkent (TAS)
Uzbekistan Airways
HY7270
01:30
02:17
En-Route
Dubai (DXB)
Turkish Airlines
TK762 expand_more(2)
01:35
02:09
En-Route
Dubai (DXB)
All Nippon Airways
NH6644
01:35
02:09
En-Route
Dubai (DXB)
Royal Brunei Airlines
BI3603
01:35
02:09
En-Route
Algiers (ALG)
Air Algerie
AH3015 expand_more(1)
01:40
02:07
En-Route
Algiers (ALG)
Turkish Airlines
TK8193
01:40
02:07
En-Route
Tabriz (TBZ)
Turkish Airlines
TK882
01:40
02:11
En-Route
Amman (AMM)
Turkish Airlines
TK814 expand_more(3)
01:45
02:03
En-Route
Amman (AMM)
AirSERBIA
JU8261
01:45
02:03
En-Route
Amman (AMM)
Finnair
AY3305
01:45
02:03
En-Route
Amman (AMM)
Royal Jordanian
RJ3704
01:45
02:03
En-Route
Dubai (DXB)
flydubai
FZ756 expand_more(1)
01:45
02:45
En-Route
Dubai (DXB)
Emirates
EK2215
01:45
02:45
En-Route
St. Petersburg (LED)
Turkish Airlines
TK405
01:45
02:24
En-Route
Ercan (ECN)
Turkish Airlines
TK964
01:45
01:57
En-Route
Samsun (SZF)
Turkish Airlines
TK2818
01:45
02:02
En-Route
Shanghai (PVG)
Turkish Airlines
TK26
01:45
Scheduled
Riyadh (RUH)
Turkish Airlines
TK144
01:45
02:19
En-Route
Guangzhou (CAN)
Turkish Airlines
TK72
01:50
05:58
En-Route
Kuala Lumpur (KUL)
Turkish Airlines
TK60 expand_more(2)
01:50
03:00
En-Route
Kuala Lumpur (KUL)
Batik Air Malaysia
OD9200
01:50
03:00
En-Route
Kuala Lumpur (KUL)
Malaysia Airlines
MH4270
01:50
03:00
En-Route
Denpasar (DPS)
Turkish Airlines
TK66 expand_more(1)
01:50
02:31
En-Route
Denpasar (DPS)
Garuda Indonesia
GA9932
01:50
02:31
En-Route
Miami (MIA)
Turkish Airlines
TK157 expand_more(1)
01:50
Scheduled
Miami (MIA)
Pakistan International Airlines
PK5157
01:50
Scheduled
Tbilisi (TBS)
Turkish Airlines
TK376
01:50
02:18
En-Route
Moscow (VKO)
Turkish Airlines
TK419
01:50
02:05
En-Route
Bangkok (BKK)
Turkish Airlines
TK68 expand_more(1)
01:55
02:12
En-Route
Bangkok (BKK)
Thai Airways
TG7544
01:55
02:12
En-Route
Medina (MED)
Turkish Airlines
TK98
01:55
02:59
En-Route
Singapore (SIN)
Turkish Airlines
TK54 expand_more(2)
01:55
02:32
En-Route
Singapore (SIN)
Royal Brunei Airlines
BI3609
01:55
02:32
En-Route
Singapore (SIN)
Singapore Airlines
SQ6266
01:55
02:32
En-Route
Manila (MNL)
Turkish Airlines
TK84 expand_more(1)
01:55
02:35
En-Route
Manila (MNL)
Philippine Airlines
PR3788
01:55
02:35
En-Route
Izmir (ADB)
Turkish Airlines
TK2354 expand_more(4)
02:00
02:44
En-Route
Izmir (ADB)
AirSERBIA
JU8061
02:00
02:44
En-Route
Izmir (ADB)
SAS
SK3446
02:00
02:44
En-Route
Izmir (ADB)
TAP Air Portugal
TP8806
02:00
02:44
En-Route
Izmir (ADB)
Tarom
RO9183
02:00
02:44
En-Route
Caracas (CCS)
Turkish Airlines
TK223
02:00
02:42
En-Route
Ankara (ESB)
Turkish Airlines
TK2192 expand_more(5)
02:00
02:27
En-Route
Ankara (ESB)
Air New Zealand
NZ4892
02:00
02:27
En-Route
Ankara (ESB)
AirSERBIA
JU8191
02:00
02:27
En-Route
Ankara (ESB)
JetBlue Airways
B66933
02:00
02:27
En-Route
Ankara (ESB)
SAS
SK3476
02:00
02:27
En-Route
Ankara (ESB)
TAP Air Portugal
TP8832
02:00
02:27
En-Route
Hong Kong (HKG)
Turkish Airlines
TK70 expand_more(2)
02:00
02:34
En-Route
Hong Kong (HKG)
Air New Zealand
NZ4850
02:00
02:34
En-Route
Hong Kong (HKG)
Hong Kong Airlines
HX3670
02:00
02:34
En-Route
Phuket (HKT)
Turkish Airlines
TK172 expand_more(1)
02:00
02:29
En-Route
Phuket (HKT)
Thai Airways
TG7546
02:00
02:29
En-Route
Taipei (TPE)
Turkish Airlines
TK24 expand_more(1)
02:00
Scheduled
Taipei (TPE)
EVA Air
BR2080
02:00
Scheduled
Almaty (ALA)
Hong Kong Air Cargo
RH9486
02:05
Unknown
Almaty (ALA)
Turkish Airlines
TK6784
02:05
Unknown
Cape Town (CPT)
Turkish Airlines
TK44
02:05
02:52
En-Route
Adana (ADA)
Turkish Airlines
TK2474 expand_more(3)
02:10
02:37
En-Route
Adana (ADA)
AirSERBIA
JU8024
02:10
02:37
En-Route
Adana (ADA)
LOT
LO4613
02:10
02:37
En-Route
Adana (ADA)
TAP Air Portugal
TP8861
02:10
02:37
En-Route
Kayseri (ASR)
Turkish Airlines
TK2022 expand_more(2)
02:10
Cancelled
Kayseri (ASR)
AirSERBIA
JU8072
02:10
Cancelled
Kayseri (ASR)
TAP Air Portugal
TP8808
02:10
Cancelled
Baghdad (BGW)
Turkish Airlines
TK802
02:10
02:38
En-Route
Gaziantep (GZT)
Turkish Airlines
TK2228 expand_more(1)
02:10
03:12
En-Route
Gaziantep (GZT)
AirSERBIA
JU8206
02:10
03:12
En-Route
Beijing (PEK)
Turkish Airlines
TK88
02:10
04:20
En-Route
Antalya (AYT)
Turkish Airlines
TK2428 expand_more(6)
02:15
03:10
En-Route
Antalya (AYT)
AirSERBIA
JU8099
02:15
03:10
En-Route
Antalya (AYT)
Finnair
AY3311
02:15
03:10
En-Route
Antalya (AYT)
LOT
LO4623
02:15
03:10
En-Route
Antalya (AYT)
SAS
SK3458
02:15
03:10
En-Route
Antalya (AYT)
TAP Air Portugal
TP8814
02:15
03:10
En-Route
Antalya (AYT)
Tarom
RO9187
02:15
03:10
En-Route
Baku (GYD)
Turkish Airlines
TK338 expand_more(2)
02:15
02:33
En-Route
Baku (GYD)
Azerbaijan Airlines
J26338
02:15
02:33
En-Route
Baku (GYD)
Egyptair
MS9302
02:15
02:33
En-Route
Port Louis (MRU)
Turkish Airlines
TK160
02:15
02:40
En-Route
Hanoi (HAN)
Turkish Airlines
TK164
02:20
02:54
En-Route
Seoul (ICN)
Turkish Airlines
TK90 expand_more(1)
02:20
02:41
En-Route
Seoul (ICN)
Asiana Airlines
OZ6932
02:20
02:41
En-Route
Mexico City (MEX)
Turkish Airlines
TK181
02:25
02:48
En-Route
Annaba (AAE)
Air Algerie
AH3021 expand_more(1)
02:30
02:15
En-Route
Annaba (AAE)
Turkish Airlines
TK4591
02:30
02:15
En-Route
Jakarta (CGK)
Turkish Airlines
TK56 expand_more(1)
02:30
02:55
En-Route
Jakarta (CGK)
Garuda Indonesia
GA9095
02:30
02:55
En-Route
Tokyo (HND)
Turkish Airlines
TK198 expand_more(2)
02:40
02:57
En-Route
Tokyo (HND)
All Nippon Airways
NH6636
02:40
02:57
En-Route
Tokyo (HND)
Egyptair
MS9362
02:40
02:57
En-Route
Istanbul (SAW)
AnadoluJet
TK4391
02:45
03:36
En-Route
Erbil (EBL)
Turkish Airlines
TK804
02:50
02:56
En-Route
Sochi (AER)
Red Wings
WZ4306
03:10
03:20
En-Route
Almaty (ALA)
Turkish Airlines
TK6494
03:25
Unknown
Tehran (IKA)
Turkish Airlines
TK870
03:30
03:39
En-Route
Tripoli (MJI)
Libyan Wings
YL101
03:30
03:46
En-Route
Basra (BSR)
Turkish Airlines
TK798
03:40
03:53
En-Route
Frankfurt (FRA)
Turkish Cargo
TK6403
03:55
05:26
En-Route
Baghdad (BGW)
Turkish Airlines
TK6444
04:05
Unknown
Frankfurt (FRA)
Lufthansa Cargo
LH8347
04:05
04:07
En-Route
Tbilisi (TBS)
Turkish Cargo
TK6120
04:05
04:48
En-Route
Kuwait City (KWI)
Kuwait Airways
KU152 expand_more(1)
04:30
Cancelled
Kuwait City (KWI)
Turkish Airlines
TK8192
04:30
Cancelled
Tashkent (TAS)
Turkish Airlines
TK6596
05:00
Unknown
Algiers (ALG)
Air Algerie
AH3019 expand_more(1)
05:35
05:51
En-Route
Algiers (ALG)
Turkish Airlines
TK4599
05:35
05:51
En-Route
Toronto (YYZ)
Turkish Cargo
TK6079
05:55
Scheduled
London (STN)
Turkish Airlines
TK6305
06:10
Scheduled
Manila (MNL)
Turkish Airlines
TK264
06:15
Scheduled
Almaty (ALA)
Turkish Cargo
TK6480
06:20
Scheduled
Gazipasa (GZP)
Turkish Airlines
TK2592 expand_more(1)
06:20
Scheduled
Gazipasa (GZP)
AirSERBIA
JU8192
06:20
Scheduled
Shannon (SNN)
Turkish Airlines
TK6275
06:20
Scheduled
Frankfurt (FRA)
Lufthansa
LH1305 expand_more(4)
06:35
Scheduled
Frankfurt (FRA)
Air Canada
AC9476
06:35
Scheduled
Frankfurt (FRA)
All Nippon Airways
NH5882
06:35
Scheduled
Frankfurt (FRA)
LATAM Airlines
LA8704
06:35
Scheduled
Frankfurt (FRA)
United Airlines
UA9127
06:35
Scheduled
Gaziantep (GZT)
Turkish Airlines
TK2220 expand_more(1)
06:40
Scheduled
Gaziantep (GZT)
AirSERBIA
JU8198
06:40
Scheduled
Kuala Lumpur (KUL)
Turkish Airlines
TK6470
06:55
Scheduled
Izmir (ADB)
Turkish Airlines
TK2310 expand_more(2)
07:00
Scheduled
Izmir (ADB)
AirSERBIA
JU8033
07:00
Scheduled
Izmir (ADB)
SAS
SK3496
07:00
Scheduled
Ankara (ESB)
Turkish Airlines
TK2122 expand_more(2)
07:00
Scheduled
Ankara (ESB)
Air New Zealand
NZ4886
07:00
Scheduled
Ankara (ESB)
AirSERBIA
JU8160
07:00
Scheduled
Rize (RZV)
Turkish Airlines
TK2536
07:00
Scheduled
Taipei (TPE)
Turkish Airlines
TK6226
07:00
Scheduled
Adana (ADA)
Turkish Airlines
TK2458 expand_more(3)
07:05
Scheduled
Adana (ADA)
AirSERBIA
JU8010
07:05
Scheduled
Adana (ADA)
JetBlue Airways
B66942
07:05
Scheduled
Adana (ADA)
Singapore Airlines
SQ6280
07:05
Scheduled
Seoul (ICN)
Turkish Airlines
TK6494
07:15
Scheduled
Abu Dhabi (AUH)
Etihad Airways
EY98 expand_more(2)
07:25
Scheduled
Abu Dhabi (AUH)
SriLankan Airlines
UL2698
07:25
Scheduled
Abu Dhabi (AUH)
Turkish Airlines
TK8052
07:25
Scheduled
Paris (CDG)
Air France
AF1391 expand_more(4)
07:25
Scheduled
Paris (CDG)
Delta Air Lines
DL8353
07:25
Scheduled
Paris (CDG)
GOL Linhas Aereas
G35117
07:25
Scheduled
Paris (CDG)
Jet Linx Aviation
JL5320
07:25
Scheduled
Paris (CDG)
KLM
KL2353
07:25
Scheduled
Samsun (SZF)
Turkish Airlines
TK2806
07:25
Scheduled
Moscow (SVO)
Aeroflot
SU2135
07:25
Scheduled
Erbil (EBL)
Turkish Airlines
TK6532
07:30
Scheduled
Mardin (MQM)
Turkish Airlines
TK2674
07:30
Scheduled
Addis Ababa (ADD)
Ethiopian Airlines
ET723
07:35
Scheduled
Diyarbakir (DIY)
Turkish Airlines
TK2602
07:35
Scheduled
Trabzon (TZX)
Turkish Airlines
TK2826 expand_more(1)
07:35
Scheduled
Trabzon (TZX)
AirSERBIA
JU8228
07:35
Scheduled
Merzifon (MZH)
Turkish Airlines
TK2854
07:35
Scheduled
Kayseri (ASR)
Turkish Airlines
TK2010 expand_more(1)
07:40
Scheduled
Kayseri (ASR)
AirSERBIA
JU8062
07:40
Scheduled
Johannesburg (JNB)
Turkish Airlines
TK6462
07:40
Scheduled
Sirnak (NKT)
Turkish Airlines
TK2668
07:40
Cancelled
Tbilisi (TBS)
Turkish Airlines
TK378
07:40
Scheduled
Nevsehir (NAV)
Turkish Airlines
TK2006
07:40
Scheduled
Adiyaman (ADF)
Turkish Airlines
TK2216
07:45
Scheduled
Bodrum (BJV)
Turkish Airlines
TK2504 expand_more(1)
07:45
Scheduled
Bodrum (BJV)
AirSERBIA
JU8112
07:45
Scheduled
Dalaman (DLM)
Turkish Airlines
TK2552 expand_more(1)
07:45
Scheduled
Dalaman (DLM)
AirSERBIA
JU8136
07:45
Scheduled
Budapest (BUD)
ULS Airlines Cargo
TK6624
07:45
Scheduled
Casablanca (CMN)
Turkish Airlines
TK6917
07:45
Scheduled
Sanliurfa (GNY)
Turkish Airlines
TK2246
07:45
Scheduled
Cardak (DNZ)
Turkish Airlines
TK2578
07:45
Scheduled
Konya (KYA)
Turkish Airlines
TK2032 expand_more(1)
07:45
Scheduled
Konya (KYA)
AirSERBIA
JU8212
07:45
Scheduled
Dammam (DMM)
Turkish Cargo
TK6196
07:45
Scheduled
Dubai (DXB)
Turkish Airlines
TK764 expand_more(1)
07:50
Scheduled
Dubai (DXB)
Royal Brunei Airlines
BI3621
07:50
Scheduled
Algiers (ALG)
Turkish Airlines
TK651 expand_more(1)
07:55
Scheduled
Algiers (ALG)
Air Algerie
AH3901
07:55
Scheduled
Cairo (CAI)
Turkish Airlines
TK690 expand_more(1)
07:55
Scheduled
Cairo (CAI)
Egyptair
MS9292
07:55
Scheduled
Beirut (BEY)
Turkish Airlines
TK830 expand_more(1)
07:55
Scheduled
Beirut (BEY)
MEA
ME4830
07:55
Scheduled
Billund (BLL)
Turkish Airlines
TK1485 expand_more(1)
07:55
Scheduled
Billund (BLL)
SAS
SK3488
07:55
Scheduled
Ercan (ECN)
Turkish Airlines
TK960
07:55
Scheduled
New York (JFK)
Turkish Airlines
TK3 expand_more(5)
07:55
Scheduled
New York (JFK)
Avianca
AV6635
07:55
Scheduled
New York (JFK)
IndiGo
6E4266
07:55
Scheduled
New York (JFK)
JetBlue Airways
B66903
07:55
Scheduled
New York (JFK)
Pakistan International Airlines
PK5003
07:55
Scheduled
New York (JFK)
Uzbekistan Airways
HY7283
07:55
Scheduled
Munich (MUC)
Turkish Airlines
TK1629 expand_more(2)
07:55
Scheduled
Munich (MUC)
Gulf Air
GF6018
07:55
Scheduled
Munich (MUC)
United Airlines
UA6907
07:55
Scheduled
Tel Aviv (TLV)
Turkish Airlines
TK784
07:55
Scheduled
Izmir (ADB)
Turkish Airlines
TK2312 expand_more(2)
08:00
Scheduled
Izmir (ADB)
AirSERBIA
JU8035
08:00
Scheduled
Izmir (ADB)
Malaysia Airlines
MH4278
08:00
Scheduled
Ljubljana (LJU)
Turkish Airlines
TK1061 expand_more(1)
08:00
Scheduled
Ljubljana (LJU)
Egyptair
MS9681
08:00
Scheduled
Ankara (ESB)
Turkish Airlines
TK2126
08:00
Scheduled
Los Angeles (LAX)
Turkish Airlines
TK179 expand_more(2)
08:00
Scheduled
Los Angeles (LAX)
Pakistan International Airlines
PK5179
08:00
Scheduled
Los Angeles (LAX)
Uzbekistan Airways
HY7239
08:00
Scheduled
Sanliurfa (GNY)
Turkish Airlines
TK6801
08:00
Scheduled
Naples (NAP)
Turkish Airlines
TK1453
08:00
Scheduled
Prague (PRG)
Turkish Airlines
TK1767 expand_more(2)
08:00
Scheduled
Prague (PRG)
IndiGo
6E4025
08:00
Scheduled
Prague (PRG)
Uzbekistan Airways
HY7285
08:00
Scheduled
Warsaw (WAW)
LOT
LO138 expand_more(1)
08:00
Scheduled
Warsaw (WAW)
Turkish Airlines
TK8160
08:00
Scheduled
Athens (ATH)
Turkish Airlines
TK1843 expand_more(3)
08:05
Scheduled
Athens (ATH)
Aegean Airlines
A33155
08:05
Scheduled
Athens (ATH)
Pakistan International Airlines
PK5843
08:05
Scheduled
Athens (ATH)
Sichuan Airlines
3U7223
08:05
Scheduled
Antalya (AYT)
Turkish Airlines
TK2410 expand_more(3)
08:05
Scheduled
Antalya (AYT)
AirSERBIA
JU8085
08:05
Scheduled
Antalya (AYT)
SAS
SK3456
08:05
Scheduled
Antalya (AYT)
Singapore Airlines
SQ6262
08:05
Scheduled
Paris (CDG)
Turkish Airlines
TK1821 expand_more(4)
08:05
Scheduled
Paris (CDG)
Air Canada
AC6689
08:05
Scheduled
Paris (CDG)
RwandAir
WB1261
08:05
Scheduled
Paris (CDG)
Sichuan Airlines
3U7211
08:05
Scheduled
Paris (CDG)
United Airlines
UA6925
08:05
Scheduled
London (LHR)
British Airways
BA675 expand_more(1)
08:05
Scheduled
London (LHR)
American Airlines
AA6612
08:05
Scheduled
Tehran (IKA)
Turkish Airlines
TK880
08:05
Scheduled
Thessaloniki (SKG)
Turkish Airlines
TK1881 expand_more(3)
08:05
Scheduled
Thessaloniki (SKG)
Aegean Airlines
A33157
08:05
Scheduled
Thessaloniki (SKG)
Gulf Air
GF6065
08:05
Scheduled
Thessaloniki (SKG)
Malaysia Airlines
MH4345
08:05
Scheduled
Dubrovnik (DBV)
Turkish Ministry of Energy and Natural Resources
TK437 expand_more(1)
08:10
Scheduled
Dubrovnik (DBV)
Croatia Airlines
OU5357
08:10
Scheduled
Zagreb (ZAG)
Turkish Airlines
TK1053 expand_more(1)
08:10
Scheduled
Zagreb (ZAG)
Croatia Airlines
OU5351
08:10
Scheduled
Warsaw (WAW)
Turkish Airlines
TK1265 expand_more(1)
08:10
Scheduled
Warsaw (WAW)
LOT
LO4508
08:10
Scheduled
Venice (VCE)
Turkish Airlines
TK1867 expand_more(1)
08:10
Scheduled
Venice (VCE)
Malaysia Airlines
MH4343
08:10
Scheduled
Porto (OPO)
Turkish Airlines
TK1449 expand_more(2)
08:10
Scheduled
Porto (OPO)
IndiGo
6E4117
08:10
Scheduled
Porto (OPO)
TAP Air Portugal
TP6457
08:10
Scheduled
Budapest (BUD)
Turkish Airlines
TK1035 expand_more(1)
08:15
Scheduled
Budapest (BUD)
Royal Jordanian
RJ3733
08:15
Scheduled
Madrid (MAD)
Turkish Airlines
TK1857 expand_more(3)
08:15
Scheduled
Madrid (MAD)
Air Europa
UX3902
08:15
Scheduled
Madrid (MAD)
Avianca
AV6611
08:15
Scheduled
Madrid (MAD)
Uzbekistan Airways
HY7287
08:15
Scheduled
Dublin (DUB)
Turkish Airlines
TK1975 expand_more(1)
08:15
Scheduled
Dublin (DUB)
IndiGo
6E4070
08:15
Scheduled
Dusseldorf (DUS)
Turkish Airlines
TK1523 expand_more(2)
08:15
Scheduled
Dusseldorf (DUS)
Malaysia Airlines
MH4315
08:15
Scheduled
Dusseldorf (DUS)
Pakistan International Airlines
PK5523
08:15
Scheduled
Malta (MLA)
Turkish Airlines
TK1369 expand_more(2)
08:15
Scheduled
Malta (MLA)
Air Malta
KM2701
08:15
Scheduled
Malta (MLA)
IndiGo
6E4023
08:15
Scheduled
Chisinau (KIV)
Turkish Airlines
TK269
08:20
Scheduled
London (LGW)
Turkish Airlines
TK1981 expand_more(4)
08:20
Scheduled
London (LGW)
Icelandair
FI7012
08:20
Scheduled
London (LGW)
IndiGo
6E4018
08:20
Scheduled
London (LGW)
Pakistan International Airlines
PK5981
08:20
Scheduled
London (LGW)
Sichuan Airlines
3U7241
08:20
Scheduled
Podgorica (TGD)
Turkish Airlines
TK1085
08:20
Scheduled
Belgrade (BEG)
Turkish Airlines
TK1081 expand_more(1)
08:25
Scheduled
Belgrade (BEG)
AirSERBIA
JU8002
08:25
Scheduled
Skopje (SKP)
Turkish Airlines
TK1003
08:25
Scheduled
Moscow (VKO)
Turkish Airlines
TK413
08:25
Scheduled
Shenzhen (SZX)
Turkish Cargo
TK6214
08:25
Scheduled
Lyon (LYS)
Turkish Airlines
TK1807 expand_more(2)
08:30
Scheduled
Lyon (LYS)
IndiGo
6E4113
08:30
Scheduled
Lyon (LYS)
Malaysia Airlines
MH4335
08:30
Scheduled
Lisbon (LIS)
Turkish Airlines
TK1755 expand_more(3)
08:30
Scheduled
Lisbon (LIS)
IndiGo
6E4190
08:30
Scheduled
Lisbon (LIS)
Malaysia Airlines
MH4325
08:30
Scheduled
Lisbon (LIS)
TAP Air Portugal
TP6455
08:30
Scheduled
Pristina (PRN)
Turkish Airlines
TK1017
08:30
Scheduled
Bucharest (OTP)
Turkish Airlines
TK1043 expand_more(1)
08:30
Scheduled
Bucharest (OTP)
Tarom
RO9164
08:30
Scheduled
Riga (RIX)
Turkish Airlines
TK1757 expand_more(1)
08:30
Scheduled
Riga (RIX)
Air Baltic
BT7441
08:30
Scheduled
Cologne (CGN)
Turkish Airlines
TK1671
08:35
Scheduled
Copenhagen (CPH)
Turkish Airlines
TK1783 expand_more(4)
08:35
Scheduled
Copenhagen (CPH)
Gulf Air
GF6055
08:35
Scheduled
Copenhagen (CPH)
IndiGo
6E4013
08:35
Scheduled
Copenhagen (CPH)
Pakistan International Airlines
PK5783
08:35
Scheduled
Copenhagen (CPH)
SAS
SK3401
08:35
Scheduled
Hamburg (HAM)
Turkish Airlines
TK1661 expand_more(1)
08:35
Scheduled
Hamburg (HAM)
Malaysia Airlines
MH4319
08:35
Scheduled
Vilnius (VNO)
CMA CGM Air Cargo
TK6247
08:35
Scheduled
Alexandria (HBE)
Turkish Airlines
TK688 expand_more(1)
08:40
Cancelled
Alexandria (HBE)
Egyptair
MS9310
08:40
Cancelled
Hannover (HAJ)
Turkish Airlines
TK1553 expand_more(1)
08:40
09:05
En-Route
Hannover (HAJ)
Malaysia Airlines
MH4317
08:40
09:05
En-Route
Marseille (MRS)
Turkish Airlines
TK1365
08:40
08:59
En-Route
Milan (MXP)
Turkish Airlines
TK1873 expand_more(1)
08:40
09:05
En-Route
Milan (MXP)
Pakistan International Airlines
PK5873
08:40
09:05
En-Route
Vienna (VIE)
Turkish Airlines
TK1883 expand_more(1)
08:40
09:01
En-Route
Vienna (VIE)
MIAT Mongolian Airlines
OM1139
08:40
09:01
En-Route
Barcelona (BCN)
Turkish Airlines
TK1853 expand_more(3)
08:45
09:02
En-Route
Barcelona (BCN)
Avianca
AV6615
08:45
09:02
En-Route
Barcelona (BCN)
IndiGo
6E4089
08:45
09:02
En-Route
Barcelona (BCN)
Uzbekistan Airways
HY7293
08:45
09:02
En-Route
London (LHR)
Turkish Airlines
TK1979 expand_more(5)
08:45
09:20
En-Route
London (LHR)
Air Canada
AC6697
08:45
09:20
En-Route
London (LHR)
Icelandair
FI7000
08:45
09:20
En-Route
London (LHR)
Pakistan International Airlines
PK5979
08:45
09:20
En-Route
London (LHR)
Sichuan Airlines
3U7203
08:45
09:20
En-Route
London (LHR)
United Airlines
UA6915
08:45
09:20
En-Route
Sofia (SOF)
Turkish Airlines
TK1027
08:45
09:04
En-Route
Malaga (AGP)
Turkish Airlines
TK1303
08:50
09:11
En-Route
Amsterdam (AMS)
Turkish Airlines
TK1951 expand_more(3)
08:50
09:21
En-Route
Amsterdam (AMS)
Gulf Air
GF6051
08:50
09:21
En-Route
Amsterdam (AMS)
MIAT Mongolian Airlines
OM1151
08:50
09:21
En-Route
Amsterdam (AMS)
Pakistan International Airlines
PK5951
08:50
09:21
En-Route
Berlin (BER)
Turkish Airlines
TK1721 expand_more(2)
08:50
09:07
En-Route
Berlin (BER)
Gulf Air
GF6069
08:50
09:07
En-Route
Berlin (BER)
Malaysia Airlines
MH4323
08:50
09:07
En-Route
Birmingham (BHX)
Turkish Airlines
TK1967 expand_more(2)
08:50
08:59
En-Route
Birmingham (BHX)
IndiGo
6E4124
08:50
08:59
En-Route
Birmingham (BHX)
Pakistan International Airlines
PK5967
08:50
08:59
En-Route
Baku (GYD)
Turkish Airlines
TK332 expand_more(2)
08:50
09:48
En-Route
Baku (GYD)
Azerbaijan Airlines
J26332
08:50
09:48
En-Route
Baku (GYD)
Egyptair
MS9672
08:50
09:48
En-Route
Helsinki (HEL)
Turkish Airlines
TK1761 expand_more(3)
08:50
09:11
En-Route
Helsinki (HEL)
Finnair
AY3302
08:50
09:11
En-Route
Helsinki (HEL)
IndiGo
6E4275
08:50
09:11
En-Route
Helsinki (HEL)
SAS
SK3408
08:50
09:11
En-Route
Manchester (MAN)
Turkish Airlines
TK1993 expand_more(2)
08:50
09:31
En-Route
Manchester (MAN)
IndiGo
6E4121
08:50
09:31
En-Route
Manchester (MAN)
Pakistan International Airlines
PK5993
08:50
09:31
En-Route
Johannesburg (JNB)
Turkish Airlines
TK6332
08:50
Unknown
Strasbourg (SXB)
Turkish Airlines
TK1455
08:50
09:13
En-Route
Stockholm (ARN)
Turkish Airlines
TK1793 expand_more(3)
08:55
09:17
En-Route
Stockholm (ARN)
IndiGo
6E4302
08:55
09:17
En-Route
Stockholm (ARN)
Pakistan International Airlines
PK5793
08:55
09:17
En-Route
Stockholm (ARN)
SAS
SK3417
08:55
09:17
En-Route
Tallinn (TLL)
Turkish Airlines
TK1421 expand_more(1)
08:55
09:12
En-Route
Tallinn (TLL)
Singapore Airlines
SQ6281
08:55
09:12
En-Route
Stuttgart (STR)
Turkish Airlines
TK1701 expand_more(1)
08:55
09:13
En-Route
Stuttgart (STR)
Malaysia Airlines
MH4321
08:55
09:13
En-Route
Izmir (ADB)
Turkish Airlines
TK2316 expand_more(2)
09:00
09:15
En-Route
Izmir (ADB)
AirSERBIA
JU8038
09:00
09:15
En-Route
Izmir (ADB)
Singapore Airlines
SQ6218
09:00
09:15
En-Route
Brussels (BRU)
Turkish Airlines
TK1937 expand_more(3)
09:00
09:23
En-Route
Brussels (BRU)
Gulf Air
GF6053
09:00
09:23
En-Route
Brussels (BRU)
Icelandair
FI7006
09:00
09:23
En-Route
Brussels (BRU)
MIAT Mongolian Airlines
OM1169
09:00
09:23
En-Route
Ankara (ESB)
Turkish Airlines
TK2134 expand_more(2)
09:00
09:22
En-Route
Ankara (ESB)
AirSERBIA
JU8162
09:00
09:22
En-Route
Ankara (ESB)
Singapore Airlines
SQ6238
09:00
09:22
En-Route
Istanbul (ISL)
Turkish Airlines
TK6950
09:00
09:29
En-Route
Oslo (OSL)
Turkish Airlines
TK1751 expand_more(4)
09:00
09:14
En-Route
Oslo (OSL)
Icelandair
FI7016
09:00
09:14
En-Route
Oslo (OSL)
IndiGo
6E4280
09:00
09:14
En-Route
Oslo (OSL)
Pakistan International Airlines
PK5751
09:00
09:14
En-Route
Oslo (OSL)
SAS
SK3410
09:00
09:14
En-Route
Tirana (TIA)
Air Albania
ZB1002 expand_more(1)
09:00
09:16
En-Route
Tirana (TIA)
Turkish Airlines
TK9247
09:00
09:16
En-Route
Tunis (TUN)
Turkish Airlines
TK661
09:00
09:27
En-Route
Basel (BSL)
Turkish Airlines
TK1923 expand_more(1)
09:05
09:32
En-Route
Basel (BSL)
IndiGo
6E4095
09:05
09:32
En-Route
Valencia (VLC)
Turkish Airlines
TK1301 expand_more(1)
09:05
09:25
En-Route
Valencia (VLC)
IndiGo
6E4094
09:05
09:25
En-Route
Vilnius (VNO)
Turkish Airlines
TK1407
09:05
09:24
En-Route
Leipzig (LEJ)
Turkish Airlines
TK1337
09:10
09:34
En-Route
Erzurum (ERZ)
Turkish Airlines
TK2704
09:10
09:29
En-Route
Zurich (ZRH)
Turkish Airlines
TK1907 expand_more(3)
09:10
09:28
En-Route
Zurich (ZRH)
Gulf Air
GF6063
09:10
09:28
En-Route
Zurich (ZRH)
MIAT Mongolian Airlines
OM1013
09:10
09:28
En-Route
Zurich (ZRH)
Pakistan International Airlines
PK5907
09:10
09:28
En-Route
Malatya (MLX)
Turkish Airlines
TK2630
09:10
09:27
En-Route
Ordu (OGU)
Turkish Airlines
TK2848
09:10
09:51
En-Route
Frankfurt (FRA)
Turkish Airlines
TK1587 expand_more(2)
09:15
09:33
En-Route
Frankfurt (FRA)
Icelandair
FI7010
09:15
09:33
En-Route
Frankfurt (FRA)
United Airlines
UA6899
09:15
09:33
En-Route
Rome (FCO)
Turkish Airlines
TK1861 expand_more(3)
09:15
09:38
En-Route
Rome (FCO)
IndiGo
6E4186
09:15
09:38
En-Route
Rome (FCO)
ITA Airways
AZ7031
09:15
09:38
En-Route
Rome (FCO)
Pakistan International Airlines
PK5861
09:15
09:38
En-Route
Sivas (VAS)
Turkish Airlines
TK2658
09:15
09:26
En-Route
Nuremberg (NUE)
Turkish Airlines
TK1503
09:15
09:54
En-Route
Bogota (BOG)
Turkish Airlines
TK801 expand_more(1)
09:20
10:05
En-Route
Bogota (BOG)
Copa Airlines
CM8100
09:20
10:05
En-Route
Antakya (HTY)
Turkish Airlines
TK2266
09:20
09:46
En-Route
Erzincan (ERC)
Turkish Airlines
TK2652
09:20
09:37
En-Route
Antalya (AYT)
Turkish Airlines
TK2408 expand_more(1)
09:25
09:35
En-Route
Antalya (AYT)
AirSERBIA
JU8083
09:25
09:35
En-Route
Bologna (BLQ)
Turkish Airlines
TK1321
09:25
09:40
En-Route
Elazig (EZS)
Turkish Airlines
TK2642
09:25
10:07
En-Route
Paris (CDG)
Turkish Airlines
TK1831
09:30
09:59
En-Route
Diyarbakir (DIY)
Turkish Airlines
TK2606
09:30
09:41
En-Route
Gaziantep (GZT)
Turkish Airlines
TK2230 expand_more(1)
09:30
09:57
En-Route
Gaziantep (GZT)
AirSERBIA
JU8208
09:30
09:57
En-Route
Kahramanmaras (KCM)
Turkish Airlines
TK2200
09:30
09:38
En-Route
Tokat (TJK)
Turkish Airlines
TK2582
09:30
Unknown
Sinop (NOP)
Turkish Airlines
TK2842
09:30
09:44
En-Route
Adana (ADA)
Turkish Airlines
TK2472 expand_more(1)
09:35
09:48
En-Route
Adana (ADA)
AirSERBIA
JU8022
09:35
09:48
En-Route
Kars (KSY)
Turkish Airlines
TK2714
09:35
Unknown
Doha (DOH)
ULS Airlines Cargo
TK6688
09:35
09:51
En-Route
Van (VAN)
Turkish Airlines
TK2750
09:35
09:49
En-Route
Trabzon (TZX)
Turkish Airlines
TK2828 expand_more(2)
09:35
09:47
En-Route
Trabzon (TZX)
AirSERBIA
JU8230
09:35
09:47
En-Route
Trabzon (TZX)
Singapore Airlines
SQ6248
09:35
09:47
En-Route
Washington (IAD)
Turkish Airlines
TK187 expand_more(3)
09:40
11:49
En-Route
Washington (IAD)
IndiGo
6E4264
09:40
11:49
En-Route
Washington (IAD)
MIAT Mongolian Airlines
OM1133
09:40
11:49
En-Route
Washington (IAD)
Pakistan International Airlines
PK5187
09:40
11:49
En-Route
Igdir (IGD)
Turkish Airlines
TK2718
09:40
Cancelled
Bishkek (FRU)
Turkish Cargo
TK6528
09:45
10:00
En-Route
Medina (MED)
Turkish Airlines
TK108
09:45
09:55
En-Route
Kayseri (ASR)
Turkish Airlines
TK2016
09:50
10:17
En-Route
Izmir (ADB)
Turkish Airlines
TK2318 expand_more(1)
10:00
10:22
En-Route
Izmir (ADB)
AirSERBIA
JU8039
10:00
10:22
En-Route
Ankara (ESB)
Turkish Airlines
TK2138 expand_more(3)
10:00
10:04
En-Route
Ankara (ESB)
AirSERBIA
JU8164
10:00
10:04
En-Route
Ankara (ESB)
Malaysia Airlines
MH4290
10:00
10:04
En-Route
Ankara (ESB)
Singapore Airlines
SQ6282
10:00
10:04
En-Route
Mashhad (MHD)
Turkish Airlines
TK6888
10:00
10:41
En-Route
St. Petersburg (LED)
Turkish Airlines
TK401
10:10
10:26
En-Route
Batman (BAL)
Turkish Airlines
TK2682
10:20
10:48
En-Route
Sao Paulo (GRU)
Turkish Airlines
TK15 expand_more(2)
10:25
10:50
En-Route
Sao Paulo (GRU)
Egyptair
MS9365
10:25
10:50
En-Route
Sao Paulo (GRU)
Singapore Airlines
SQ6325
10:25
10:50
En-Route
Chisinau (KIV)
HiSky
H7422
10:30
10:46
En-Route
Moscow (VKO)
Turkish Airlines
TK417
10:30
10:59
En-Route
Bodrum (BJV)
Turkish Airlines
TK2522
10:35
Cancelled
Seoul (ICN)
Turkish Cargo
TK6544
10:35
Scheduled
Paris (CDG)
Turkish Airlines
TK1823 expand_more(3)
10:40
10:57
En-Route
Paris (CDG)
Air Seychelles
HM6404
10:40
10:57
En-Route
Paris (CDG)
Sichuan Airlines
3U7213
10:40
10:57
En-Route
Paris (CDG)
United Airlines
UA6926
10:40
10:57
En-Route
Almaty (ALA)
Turkish Cargo
TK6113
10:45
11:58
En-Route
Siirt (SXZ)
Turkish Airlines
TK2656
10:50
11:21
En-Route
Tabriz (TBZ)
ATA Airlines
I36602
10:50
Unknown
Adana (ADA)
Turkish Airlines
TK2456
10:55
11:51
En-Route
Tehran (IKA)
Mahan Air
W5113
10:55
11:35
En-Route
Antalya (AYT)
Turkish Airlines
TK2414 expand_more(4)
11:00
11:16
En-Route
Antalya (AYT)
AirSERBIA
JU8089
11:00
11:16
En-Route
Antalya (AYT)
Malaysia Airlines
MH4302
11:00
11:16
En-Route
Antalya (AYT)
Singapore Airlines
SQ6244
11:00
11:16
En-Route
Antalya (AYT)
Tarom
RO9175
11:00
11:16
En-Route
Belgrade (BEG)
Corendon Airlines
XC1976
11:00
Scheduled
Atlanta (ATL)
Turkish Airlines
TK6319
11:10
Unknown
Tehran (IKA)
Meraj Airlines
MRJ4804
11:15
Unknown
Madrid (MAD)
Turkish Airlines
TK1357 expand_more(3)
11:25
11:37
En-Route
Madrid (MAD)
Avianca
AV6638
11:25
11:37
En-Route
Madrid (MAD)
IndiGo
6E4092
11:25
11:37
En-Route
Madrid (MAD)
Uzbekistan Airways
HY7247
11:25
11:37
En-Route
Navoiy (NVI)
Turkish Airlines
TK6488
11:25
Scheduled
Athens (ATH)
Aegean Airlines
A3991 expand_more(1)
11:30
11:45
En-Route
Athens (ATH)
Turkish Airlines
TK9191
11:30
11:45
En-Route
Hong Kong (HKG)
Turkish Airlines
TK6090
11:30
Scheduled
Navoiy (NVI)
Turkish Cargo
TK6090
11:30
Scheduled
Belgrade (BEG)
AirSERBIA
JU801 expand_more(1)
11:35
Scheduled
Belgrade (BEG)
Turkish Airlines
TK9091
11:35
Scheduled
Bucharest (OTP)
Tarom
RO262 expand_more(1)
11:40
11:47
En-Route
Bucharest (OTP)
Turkish Airlines
TK8592
11:40
11:47
En-Route
Amsterdam (AMS)
Turkish Airlines
TK1957 expand_more(3)
11:45
Scheduled
Amsterdam (AMS)
Gulf Air
GF6015
11:45
Scheduled
Amsterdam (AMS)
MIAT Mongolian Airlines
OM1157
11:45
Scheduled
Amsterdam (AMS)
Pakistan International Airlines
PK5957
11:45
Scheduled
Barcelona (BCN)
Turkish Airlines
TK1467 expand_more(1)
11:45
12:02
En-Route
Barcelona (BCN)
Uzbekistan Airways
HY7309
11:45
12:02
En-Route
Ercan (ECN)
Turkish Airlines
TK976
11:45
Scheduled
Dusseldorf (DUS)
Turkish Airlines
TK1525 expand_more(1)
11:45
12:03
En-Route
Dusseldorf (DUS)
Pakistan International Airlines
PK5525
11:45
12:03
En-Route
London (LGW)
Turkish Airlines
TK1963 expand_more(2)
11:45
Scheduled
London (LGW)
Pakistan International Airlines
PK5963
11:45
Scheduled
London (LGW)
Sichuan Airlines
3U7239
11:45
Scheduled
Manchester (MAN)
Turkish Airlines
TK1991 expand_more(2)
11:45
Scheduled
Manchester (MAN)
IndiGo
6E4122
11:45
Scheduled
Manchester (MAN)
Pakistan International Airlines
PK5991
11:45
Scheduled
Marrakesh (RAK)
Turkish Airlines
TK619
11:45
Scheduled
Copenhagen (CPH)
Turkish Airlines
TK1781 expand_more(4)
11:50
Scheduled
Copenhagen (CPH)
Gulf Air
GF6027
11:50
Scheduled
Copenhagen (CPH)
Icelandair
FI7008
11:50
Scheduled
Copenhagen (CPH)
Pakistan International Airlines
PK5781
11:50
Scheduled
Copenhagen (CPH)
SAS
SK3483
11:50
Scheduled
Mardin (MQM)
Turkish Airlines
TK2678
11:50
Cancelled
Izmir (ADB)
Turkish Airlines
TK2322
12:00
Scheduled
Antalya (AYT)
Turkish Airlines
TK2412 expand_more(1)
12:00
Scheduled
Antalya (AYT)
AirSERBIA
JU8087
12:00
Scheduled
Ankara (ESB)
Turkish Airlines
TK2146 expand_more(2)
12:00
Scheduled
Ankara (ESB)
AirSERBIA
JU8168
12:00
Scheduled
Ankara (ESB)
Singapore Airlines
SQ6250
12:00
Scheduled
Budapest (BUD)
Wizz Air
W62430
12:05
Scheduled
Van (VAN)
Turkish Airlines
TK2752
12:10
Scheduled
Mus (MSR)
Turkish Airlines
TK2692
12:15
Scheduled
Sochi (AER)
Azimuth
A45070
12:20
Scheduled
Baku (GYD)
Azerbaijan Airlines
J276 expand_more(1)
12:20
Scheduled
Baku (GYD)
Turkish Airlines
TK8438
12:20
Scheduled
Sirnak (NKT)
Turkish Airlines
TK2666
12:20
Scheduled
Tunis (TUN)
Tunisair
TU215
12:20
Scheduled
Geneva (GVA)
Turkish Airlines
TK1921 expand_more(2)
12:25
Scheduled
Geneva (GVA)
IndiGo
6E4098
12:25
Scheduled
Geneva (GVA)
Pakistan International Airlines
PK5921
12:25
Scheduled
London (STN)
CMA CGM Air Cargo
TK6504
12:25
Scheduled
Benghazi (BEN)
Libyan Airlines
LN195
12:30
Scheduled
Tashkent (TAS)
Uzbekistan Airways
HY272 expand_more(1)
12:30
Scheduled
Tashkent (TAS)
Turkish Airlines
TK8575
12:30
Scheduled
Rize (RZV)
Turkish Airlines
TK2538
12:30
Scheduled
Berlin (BER)
Turkish Airlines
TK1725
12:35
Scheduled
Frankfurt (FRA)
Turkish Airlines
TK1591 expand_more(1)
12:35
Scheduled
Frankfurt (FRA)
United Airlines
UA6900
12:35
Scheduled
Milan (MXP)
Turkish Airlines
TK1895 expand_more(2)
12:35
Scheduled
Milan (MXP)
IndiGo
6E4100
12:35
Scheduled
Milan (MXP)
Pakistan International Airlines
PK5895
12:35
Scheduled
Zurich (ZRH)
Turkish Airlines
TK1913 expand_more(3)
12:35
Scheduled
Zurich (ZRH)
IndiGo
6E4181
12:35
Scheduled
Zurich (ZRH)
MIAT Mongolian Airlines
OM1017
12:35
Scheduled
Zurich (ZRH)
Pakistan International Airlines
PK5913
12:35
Scheduled
Stuttgart (STR)
Turkish Airlines
TK1703
12:35
Scheduled
Casablanca (CMN)
Turkish Airlines
TK617 expand_more(3)
12:40
Scheduled
Casablanca (CMN)
IndiGo
6E4255
12:40
Scheduled
Casablanca (CMN)
Royal Air Maroc
AT9401
12:40
Scheduled
Casablanca (CMN)
Sichuan Airlines
3U7229
12:40
Scheduled
Paris (CDG)
Turkish Airlines
TK1825 expand_more(3)
12:40
Scheduled
Paris (CDG)
Air Seychelles
HM6406
12:40
Scheduled
Paris (CDG)
IndiGo
6E4068
12:40
Scheduled
Paris (CDG)
Sichuan Airlines
3U7215
12:40
Scheduled
Najaf (NJF)
Iraqi Airways
IA220
12:40
Scheduled
Tirana (TIA)
Air Albania
ZB1005 expand_more(1)
12:40
Scheduled
Tirana (TIA)
Turkish Airlines
TK4649
12:40
Scheduled
Adana (ADA)
Turkish Airlines
TK2460 expand_more(2)
12:45
Scheduled
Adana (ADA)
AirSERBIA
JU8012
12:45
Scheduled
Adana (ADA)
Singapore Airlines
SQ6260
12:45
Scheduled
Amman (AMM)
Turkish Airlines
TK820 expand_more(2)
12:45
Scheduled
Amman (AMM)
AirSERBIA
JU7998
12:45
Scheduled
Amman (AMM)
Royal Jordanian
RJ3721
12:45
Scheduled
Brussels (BRU)
Turkish Airlines
TK1943 expand_more(2)
12:45
Scheduled
Brussels (BRU)
IndiGo
6E4067
12:45
Scheduled
Brussels (BRU)
MIAT Mongolian Airlines
OM1175
12:45
Scheduled
Vienna (VIE)
Turkish Airlines
TK1885 expand_more(2)
12:45
Scheduled
Vienna (VIE)
IndiGo
6E4069
12:45
Scheduled
Vienna (VIE)
MIAT Mongolian Airlines
OM1121
12:45
Scheduled
Moscow (VKO)
Pobeda
DP738
12:45
Scheduled
Budapest (BUD)
Turkish Airlines
TK1033
12:50
Scheduled
Budapest (BUD)
Turkish Airlines
TK1033
12:50
Scheduled
London (LHR)
Turkish Airlines
TK1989 expand_more(4)
12:55
Scheduled
London (LHR)
Air Canada
AC6705
12:55
Scheduled
London (LHR)
IndiGo
6E4019
12:55
Scheduled
London (LHR)
Pakistan International Airlines
PK5989
12:55
Scheduled
London (LHR)
Sichuan Airlines
3U7209
12:55
Scheduled
Munich (MUC)
Turkish Airlines
TK1633
12:55
Scheduled
Baghdad (BGW)
Iraqi Airways
IA216
13:00
Scheduled
Ankara (ESB)
Turkish Airlines
TK2150 expand_more(3)
13:00
Scheduled
Ankara (ESB)
AirSERBIA
JU8170
13:00
Scheduled
Ankara (ESB)
Singapore Airlines
SQ6204
13:00
Scheduled
Ankara (ESB)
Tarom
RO9181
13:00
Scheduled
Rome (FCO)
Turkish Airlines
TK1865 expand_more(3)
13:05
Scheduled
Rome (FCO)
IndiGo
6E4188
13:05
Scheduled
Rome (FCO)
ITA Airways
AZ7035
13:05
Scheduled
Rome (FCO)
Pakistan International Airlines
PK5865
13:05
Scheduled
Kinshasa (FIH)
Turkish Cargo
TK6640
13:05
Scheduled
Gaziantep (GZT)
Turkish Airlines
TK2222 expand_more(2)
13:10
Scheduled
Gaziantep (GZT)
AirSERBIA
JU8200
13:10
Scheduled
Gaziantep (GZT)
Singapore Airlines
SQ6222
13:10
Scheduled
Samara (KUF)
Red Wings
WZ1366
13:15
Scheduled
Tehran (IKA)
Mahan Air
W5117
13:15
Cancelled
Sanliurfa (GNY)
Turkish Airlines
TK2244
13:20
Scheduled
Tbilisi (TBS)
Turkish Airlines
TK382
13:20
Scheduled
Porto (OPO)
Turkish Airlines
TK1451 expand_more(1)
13:20
Scheduled
Porto (OPO)
IndiGo
6E4118
13:20
Scheduled
Nantes (NTE)
Transavia
TO3421
13:20
Scheduled
Lisbon (LIS)
Turkish Airlines
TK1759 expand_more(4)
13:25
Scheduled
Lisbon (LIS)
IndiGo
6E4191
13:25
Scheduled
Lisbon (LIS)
Malaysia Airlines
MH4327
13:25
Scheduled
Lisbon (LIS)
Singapore Airlines
SQ6259
13:25
Scheduled
Lisbon (LIS)
TAP Air Portugal
TP6453
13:25
Scheduled
Agri (AJI)
Turkish Airlines
TK2730
13:30
Scheduled
Antalya (AYT)
Turkish Airlines
TK2422
13:30
Scheduled
Sochi (AER)
Aeroflot
SU6730
13:35
Scheduled
Samarkand (SKD)
Qanot Sharq
HH574
13:35
Scheduled
Shanghai (PVG)
China Eastern Airlines
MU704
13:35
Scheduled
Izmir (ADB)
Pegasus
PC3305
13:40
Scheduled
Edinburgh (EDI)
Turkish Airlines
TK1345 expand_more(2)
13:40
Scheduled
Edinburgh (EDI)
IndiGo
6E4226
13:40
Scheduled
Edinburgh (EDI)
Pakistan International Airlines
PK5345
13:40
Scheduled
London (LHR)
Turkish Airlines
TK1985 expand_more(5)
13:40
Scheduled
London (LHR)
Avianca
AV6619
13:40
Scheduled
London (LHR)
IndiGo
6E4020
13:40
Scheduled
London (LHR)
Pakistan International Airlines
PK5985
13:40
Scheduled
London (LHR)
Sichuan Airlines
3U7207
13:40
Scheduled
London (LHR)
United Airlines
UA6917
13:40
Scheduled
Igdir (IGD)
Turkish Airlines
TK2720
13:40
Scheduled
Prague (PRG)
Turkish Airlines
TK1771 expand_more(2)
13:40
Scheduled
Prague (PRG)
IndiGo
6E4026
13:40
Scheduled
Prague (PRG)
Uzbekistan Airways
HY7297
13:40
Scheduled
Antalya (AYT)
Turkish Airlines
TK2444
13:45
Scheduled
Doha (DOH)
Qatar Airways
QR240 expand_more(6)
13:45
Scheduled
Doha (DOH)
Cathay Pacific
CX9240
13:45
Scheduled
Doha (DOH)
Malaysia Airlines
MH9320
13:45
Scheduled
Doha (DOH)
Oman Air
WY6320
13:45
Scheduled
Doha (DOH)
RwandAir
WB1038
13:45
Scheduled
Doha (DOH)
SriLankan Airlines
UL3121
13:45
Scheduled
Doha (DOH)
Virgin Australia
VA6094
13:45
Scheduled
Medina (MED)
Saudia
SV258
13:45
Scheduled
Trabzon (TZX)
Turkish Airlines
TK2834 expand_more(1)
13:45
Scheduled
Trabzon (TZX)
AirSERBIA
JU8236
13:45
Scheduled
Malaga (AGP)
Turkish Airlines
TK1305
13:50
Scheduled
Batumi (BUS)
Turkish Airlines
TK392
13:50
Scheduled
Los Angeles (LAX)
Turkish Airlines
TK9 expand_more(3)
13:50
Scheduled
Los Angeles (LAX)
Air New Zealand
NZ4854
13:50
Scheduled
Los Angeles (LAX)
Pakistan International Airlines
PK5009
13:50
Scheduled
Los Angeles (LAX)
Uzbekistan Airways
HY7279
13:50
Scheduled
Madrid (MAD)
Turkish Airlines
TK1859 expand_more(4)
13:50
Scheduled
Madrid (MAD)
Air Europa
UX3906
13:50
Scheduled
Madrid (MAD)
Avianca
AV6627
13:50
Scheduled
Madrid (MAD)
IndiGo
6E4091
13:50
Scheduled
Madrid (MAD)
Uzbekistan Airways
HY7289
13:50
Scheduled
San Francisco (SFO)
Turkish Airlines
TK79 expand_more(2)
13:50
Scheduled
San Francisco (SFO)
IndiGo
6E4271
13:50
Scheduled
San Francisco (SFO)
Pakistan International Airlines
PK5079
13:50
Scheduled
Bukhara (BHK)
Uzbekistan Airways
HY286 expand_more(1)
13:55
Scheduled
Bukhara (BHK)
Turkish Airlines
TK8334
13:55
Scheduled
Belgrade (BEG)
Turkish Airlines
TK1079 expand_more(1)
13:55
Scheduled
Belgrade (BEG)
AirSERBIA
JU8000
13:55
Scheduled
Chisinau (KIV)
Turkish Airlines
TK273
13:55
Scheduled
Dublin (DUB)
Turkish Airlines
TK1977 expand_more(1)
13:55
Scheduled
Dublin (DUB)
IndiGo
6E4016
13:55
Scheduled
Oran (ORN)
Turkish Airlines
TK493 expand_more(1)
13:55
Scheduled
Oran (ORN)
Air Algerie
AH3911
13:55
Scheduled
Izmir (ADB)
Turkish Airlines
TK2324 expand_more(3)
14:00
Scheduled
Izmir (ADB)
AirSERBIA
JU8043
14:00
Scheduled
Izmir (ADB)
Singapore Airlines
SQ6216
14:00
Scheduled
Izmir (ADB)
Tarom
RO9169
14:00
Scheduled
Athens (ATH)
Turkish Airlines
TK1849 expand_more(4)
14:00
Scheduled
Athens (ATH)
Aegean Airlines
A33153
14:00
Scheduled
Athens (ATH)
IndiGo
6E4004
14:00
Scheduled
Athens (ATH)
Pakistan International Airlines
PK5849
14:00
Scheduled
Athens (ATH)
Sichuan Airlines
3U7227
14:00
Scheduled
Cairo (CAI)
Egyptair
MS738 expand_more(4)
14:00
Scheduled
Cairo (CAI)
Ethiopian Airlines
ET1464
14:00
Scheduled
Cairo (CAI)
Kenya Airways
KQ4708
14:00
Scheduled
Cairo (CAI)
Singapore Airlines
SQ6038
14:00
Scheduled
Cairo (CAI)
Turkish Airlines
TK4628
14:00
Scheduled
Ercan (ECN)
Turkish Airlines
TK968
14:00
Scheduled
London (LHR)
Turkish Airlines
TK1931 expand_more(3)
14:00
Scheduled
London (LHR)
Air Canada
AC6699
14:00
Scheduled
London (LHR)
Pakistan International Airlines
PK5931
14:00
Scheduled
London (LHR)
Sichuan Airlines
3U7233
14:00
Scheduled
Ankara (ESB)
Turkish Airlines
TK2152
14:00
Scheduled
Tehran (IKA)
Iran Airtour
B99703
14:00
Scheduled
Tripoli (MJI)
Libyan Wings
YL103
14:00
Scheduled
Diyarbakir (DIY)
Turkish Airlines
TK2610
14:05
Scheduled
Kahramanmaras (KCM)
Turkish Airlines
TK2204
14:05
Scheduled
Ordu (OGU)
Turkish Airlines
TK2850
14:05
Scheduled
Beirut (BEY)
MEA
ME266 expand_more(1)
14:10
Scheduled
Beirut (BEY)
Turkish Airlines
TK8166
14:10
Scheduled
Kuwait City (KWI)
Kuwait Airways
KU156 expand_more(1)
14:10
Scheduled
Kuwait City (KWI)
Turkish Airlines
TK8584
14:10
Scheduled
Samsun (SZF)
Turkish Airlines
TK2808
14:10
Cancelled
Adana (ADA)
Turkish Airlines
TK2462 expand_more(3)
14:15
Scheduled
Adana (ADA)
AirSERBIA
JU8014
14:15
Scheduled
Adana (ADA)
JetBlue Airways
B66943
14:15
Scheduled
Adana (ADA)
Singapore Airlines
SQ6258
14:15
Scheduled
Konya (KYA)
Turkish Airlines
TK2036 expand_more(2)
14:15
Scheduled
Konya (KYA)
AirSERBIA
JU8214
14:15
Scheduled
Konya (KYA)
Singapore Airlines
SQ6296
14:15
Scheduled
Ho Chi Minh City (SGN)
Turkish Cargo
TK6180
14:15
Scheduled
Kayseri (ASR)
Turkish Airlines
TK2012 expand_more(2)
14:20
Scheduled
Kayseri (ASR)
AirSERBIA
JU8064
14:20
Scheduled
Kayseri (ASR)
Singapore Airlines
SQ6212
14:20
Scheduled
Brussels (BRU)
Turkish Airlines
TK6509
14:20
Scheduled
London (LGW)
Wizz Air
W95730
14:20
Scheduled
Doha (DOH)
Turkish Airlines
TK6676
14:20
Scheduled
Bucharest (OTP)
Turkish Airlines
TK1039 expand_more(1)
14:20
Scheduled
Bucharest (OTP)
Tarom
RO9162
14:20
Scheduled
Algiers (ALG)
Turkish Airlines
TK653
14:30
Scheduled
Dar-es-Salaam (DAR)
Turkish Airlines
TK525
14:30
Scheduled
Paris (CDG)
Turkish Airlines
TK1833 expand_more(3)
14:30
Scheduled
Paris (CDG)
Air Seychelles
HM6412
14:30
Scheduled
Paris (CDG)
IndiGo
6E4011
14:30
Scheduled
Paris (CDG)
Sichuan Airlines
3U7219
14:30
Scheduled
Birmingham (BHX)
Turkish Airlines
TK1969 expand_more(2)
14:30
Scheduled
Birmingham (BHX)
IndiGo
6E4125
14:30
Scheduled
Birmingham (BHX)
Pakistan International Airlines
PK5969
14:30
Scheduled
Manchester (MAN)
Turkish Airlines
TK1995 expand_more(2)
14:30
Scheduled
Manchester (MAN)
IndiGo
6E4123
14:30
Scheduled
Manchester (MAN)
Pakistan International Airlines
PK5995
14:30
Scheduled
Tehran (IKA)
Iran Aseman Airlines
EP513
14:30
Scheduled
Sao Paulo (GRU)
Turkish Airlines
TK193 expand_more(1)
14:30
Scheduled
Sao Paulo (GRU)
AirSERBIA
JU8288
14:30
Scheduled
Tripoli (MJI)
Afriqiyah Airways
8U971
14:30
Scheduled
Kuwait City (KWI)
Jazeera Airways
J9302
14:35
Scheduled
Nevsehir (NAV)
Turkish Airlines
TK2004
14:35
Scheduled
Sharjah (SHJ)
DAT
G9322
14:35
Scheduled
Prague (PRG)
Turkish Airlines
TK6285
14:35
Scheduled
Dallas (DFW)
Turkish Airlines
TK191 expand_more(1)
14:40
Scheduled
Dallas (DFW)
Pakistan International Airlines
PK5191
14:40
Scheduled
London (LGW)
Turkish Airlines
TK1997 expand_more(2)
14:40
Scheduled
London (LGW)
IndiGo
6E4017
14:40
Scheduled
London (LGW)
Sichuan Airlines
3U7243
14:40
Scheduled
Antalya (AYT)
Turkish Airlines
TK2430 expand_more(1)
14:45
Scheduled
Antalya (AYT)
AirSERBIA
JU8100
14:45
Scheduled
Moscow (VKO)
Turkish Airlines
TK415
14:45
Scheduled
Sarajevo (SJJ)
Turkish Airlines
TK1021 expand_more(1)
14:45
Scheduled
Sarajevo (SJJ)
Royal Jordanian
RJ3711
14:45
Scheduled
Sofia (SOF)
Turkish Airlines
TK1031 expand_more(1)
14:45
Scheduled
Sofia (SOF)
Royal Jordanian
RJ3709
14:45
Scheduled
Podgorica (TGD)
Flexflight
W21545
14:45
Scheduled
Podgorica (TGD)
Air Montenegro
4O405
14:45
Scheduled
Dakar (DSS)
Turkish Airlines
TK503
14:50
Scheduled
Tunis (TUN)
Turkish Airlines
TK663
14:50
Scheduled
Valencia (VLC)
Turkish Airlines
TK1313 expand_more(1)
14:50
Scheduled
Valencia (VLC)
IndiGo
6E4093
14:50
Scheduled
Moscow (SVO)
Aeroflot
SU2131
14:50
Scheduled
Podgorica (TGD)
Air Montenegro
4O1545
14:50
Scheduled
Brussels (BRU)
Turkish Cargo
TK6027
14:55
Scheduled
Jeddah (JED)
Turkish Airlines
TK126
14:55
Scheduled
London (LHR)
British Airways
BA679 expand_more(1)
14:55
Scheduled
London (LHR)
American Airlines
AA7136
14:55
Scheduled
Houston (IAH)
Turkish Airlines
TK33 expand_more(2)
14:55
Scheduled
Houston (IAH)
Pakistan International Airlines
PK5033
14:55
Scheduled
Houston (IAH)
Singapore Airlines
SQ6233
14:55
Scheduled
Bodrum (BJV)
Turkish Airlines
TK2506 expand_more(2)
15:00
Scheduled
Bodrum (BJV)
AirSERBIA
JU8114
15:00
Scheduled
Bodrum (BJV)
Tarom
RO9173
15:00
Scheduled
Dalaman (DLM)
Turkish Airlines
TK2562 expand_more(2)
15:00
Scheduled
Dalaman (DLM)
Royal Jordanian
RJ3735
15:00
Scheduled
Dalaman (DLM)
SAS
SK3470
15:00
Scheduled
Ankara (ESB)
Turkish Airlines
TK2158 expand_more(3)
15:00
Scheduled
Ankara (ESB)
Air New Zealand
NZ4880
15:00
Scheduled
Ankara (ESB)
AirSERBIA
JU8174
15:00
Scheduled
Ankara (ESB)
Singapore Airlines
SQ6264
15:00
Scheduled
Mardin (MQM)
Turkish Airlines
TK2676
15:05
Cancelled
Prague (PRG)
Turkish Airlines
TK6590
15:05
Scheduled
Stockholm (ARN)
Turkish Airlines
TK1795 expand_more(3)
15:10
Scheduled
Stockholm (ARN)
IndiGo
6E4303
15:10
Scheduled
Stockholm (ARN)
Pakistan International Airlines
PK5795
15:10
Scheduled
Stockholm (ARN)
SAS
SK3419
15:10
Scheduled
Bahrain (BAH)
Gulf Air
GF44
15:10
Scheduled
New York (JFK)
Turkish Airlines
TK1 expand_more(5)
15:10
Scheduled
New York (JFK)
Avianca
AV6629
15:10
Scheduled
New York (JFK)
IndiGo
6E4234
15:10
Scheduled
New York (JFK)
Pakistan International Airlines
PK5001
15:10
Scheduled
New York (JFK)
Singapore Airlines
SQ6201
15:10
Scheduled
New York (JFK)
Uzbekistan Airways
HY7281
15:10
Scheduled
Amsterdam (AMS)
Turkish Airlines
TK1953 expand_more(3)
15:15
Scheduled
Amsterdam (AMS)
IndiGo
6E4002
15:15
Scheduled
Amsterdam (AMS)
MIAT Mongolian Airlines
OM1153
15:15
Scheduled
Amsterdam (AMS)
Pakistan International Airlines
PK5953
15:15
Scheduled
Amsterdam (AMS)
Turkish Cargo
TK6369
15:15
Scheduled
Helsinki (HEL)
Turkish Airlines
TK1763 expand_more(3)
15:15
Scheduled
Helsinki (HEL)
Finnair
AY3304
15:15
Scheduled
Helsinki (HEL)
IndiGo
6E4276
15:15
Scheduled
Helsinki (HEL)
SAS
SK3422
15:15
Scheduled
London (LHR)
Turkish Airlines
TK1971 expand_more(4)
15:15
Scheduled
London (LHR)
Avianca
AV6621
15:15
Scheduled
London (LHR)
IndiGo
6E4021
15:15
Scheduled
London (LHR)
Pakistan International Airlines
PK5971
15:15
Scheduled
London (LHR)
Sichuan Airlines
3U7201
15:15
Scheduled
Tallinn (TLL)
Turkish Airlines
TK1423
15:15
Scheduled
Toulouse (TLS)
Turkish Airlines
TK1805 expand_more(1)
15:15
Scheduled
Toulouse (TLS)
IndiGo
6E4116
15:15
Scheduled
Oslo (OSL)
Turkish Airlines
TK1753 expand_more(3)
15:15
Scheduled
Oslo (OSL)
IndiGo
6E4279
15:15
Scheduled
Oslo (OSL)
Pakistan International Airlines
PK5753
15:15
Scheduled
Oslo (OSL)
SAS
SK3412
15:15
Scheduled
Accra (ACC)
Turkish Airlines
TK629 expand_more(1)
15:20
16:21
En-Route
Accra (ACC)
Singapore Airlines
SQ6229
15:20
Scheduled
Bangkok (BKK)
Turkish Airlines
TK58 expand_more(1)
15:20
16:32
En-Route
Bangkok (BKK)
Thai Airways
TG7548
15:20
16:32
En-Route
Lagos (LOS)
Turkish Airlines
TK625
15:20
15:20
En-Route
Libreville (LBV)
Turkish Airlines
TK587
15:20
15:56
En-Route
Gothenburg (GOT)
Turkish Airlines
TK1799 expand_more(2)
15:20
15:55
En-Route
Gothenburg (GOT)
Malaysia Airlines
MH4349
15:20
15:55
En-Route
Gothenburg (GOT)
SAS
SK3498
15:20
15:55
En-Route
Seattle (SEA)
Turkish Airlines
TK203
15:20
Scheduled
Chicago (ORD)
Turkish Airlines
TK5 expand_more(5)
15:20
Scheduled
Chicago (ORD)
IndiGo
6E4216
15:20
Scheduled
Chicago (ORD)
MIAT Mongolian Airlines
OM1135
15:20
Scheduled
Chicago (ORD)
Pakistan International Airlines
PK5005
15:20
Scheduled
Chicago (ORD)
Singapore Airlines
SQ6205
15:20
Scheduled
Chicago (ORD)
Uzbekistan Airways
HY7277
15:20
Scheduled
Misrata (MRA)
Berniq Airways
NB332
15:20
15:34
En-Route
Atlanta (ATL)
Turkish Airlines
TK31 expand_more(2)
15:25
16:16
En-Route
Atlanta (ATL)
Pakistan International Airlines
PK5031
15:25
16:16
En-Route
Atlanta (ATL)
Singapore Airlines
SQ6311
15:25
16:16
En-Route
Jeddah (JED)
Saudia
SV256 expand_more(2)
15:25
15:45
En-Route
Jeddah (JED)
Aeroflot
SU4110
15:25
15:45
En-Route
Jeddah (JED)
Garuda Indonesia
GA9674
15:25
15:45
En-Route
Dusseldorf (DUS)
Turkish Airlines
TK1527 expand_more(1)
15:25
16:44
En-Route
Dusseldorf (DUS)
Pakistan International Airlines
PK5527
15:25
16:44
En-Route
Cologne (CGN)
Turkish Airlines
TK1675
15:30
16:08
En-Route
Barcelona (BCN)
Turkish Airlines
TK1855 expand_more(2)
15:30
16:07
En-Route
Barcelona (BCN)
IndiGo
6E4090
15:30
16:07
En-Route
Barcelona (BCN)
Uzbekistan Airways
HY7295
15:30
16:07
En-Route
Brussels (BRU)
Turkish Airlines
TK1939 expand_more(3)
15:30
16:02
En-Route
Brussels (BRU)
Gulf Air
GF6005
15:30
16:02
En-Route
Brussels (BRU)
IndiGo
6E4007
15:30
16:02
En-Route
Brussels (BRU)
MIAT Mongolian Airlines
OM1171
15:30
16:02
En-Route
Constantine (CZL)
Turkish Airlines
TK1411 expand_more(1)
15:30
16:34
En-Route
Constantine (CZL)
Air Algerie
AH3915
15:30
16:34
En-Route
Frankfurt (FRA)
Turkish Airlines
TK1593 expand_more(1)
15:30
15:59
En-Route
Frankfurt (FRA)
United Airlines
UA6901
15:30
15:59
En-Route
Luxembourg (LUX)
Turkish Airlines
TK1355 expand_more(2)
15:30
16:03
En-Route
Luxembourg (LUX)
Luxair
LG1380
15:30
16:03
En-Route
Luxembourg (LUX)
Singapore Airlines
SQ6305
15:30
16:03
En-Route
Nouakchott (NKC)
Turkish Airlines
TK583
15:30
16:01
En-Route
Hannover (HAJ)
Turkish Airlines
TK1555 expand_more(1)
15:35
16:23
En-Route
Hannover (HAJ)
Malaysia Airlines
MH4331
15:35
16:23
En-Route
Toronto (YYZ)
Turkish Airlines
TK17 expand_more(3)
15:35
16:53
En-Route
Toronto (YYZ)
Air Canada
AC6679
15:35
16:53
En-Route
Toronto (YYZ)
AirSERBIA
JU8276
15:35
16:53
En-Route
Toronto (YYZ)
Singapore Airlines
SQ6307
15:35
16:53
En-Route
Nice (NCE)
Turkish Airlines
TK1815 expand_more(1)
15:35
15:58
En-Route
Nice (NCE)
IndiGo
6E4112
15:35
15:58
En-Route
Bremen (BRE)
Turkish Airlines
TK1333
15:40
16:37
En-Route
Paris (CDG)
Turkish Airlines
TK1827 expand_more(3)
15:40
16:17
En-Route
Paris (CDG)
Air Seychelles
HM6408
15:40
16:17
En-Route
Paris (CDG)
IndiGo
6E4012
15:40
16:17
En-Route
Paris (CDG)
Sichuan Airlines
3U7217
15:40
16:17
En-Route
Copenhagen (CPH)
Turkish Airlines
TK1785 expand_more(5)
15:40
16:23
En-Route
Copenhagen (CPH)
Gulf Air
GF6007
15:40
16:23
En-Route
Copenhagen (CPH)
IndiGo
6E4014
15:40
16:23
En-Route
Copenhagen (CPH)
Oman Air
WY5751
15:40
16:23
En-Route
Copenhagen (CPH)
Pakistan International Airlines
PK5785
15:40
16:23
En-Route
Copenhagen (CPH)
SAS
SK3403
15:40
16:23
En-Route
Gaziantep (GZT)
Turkish Airlines
TK2238 expand_more(1)
15:40
15:49
En-Route
Gaziantep (GZT)
Royal Jordanian
RJ3727
15:40
15:49
En-Route
Miami (MIA)
Turkish Airlines
TK77 expand_more(2)
15:40
16:08
En-Route
Miami (MIA)
Pakistan International Airlines
PK5077
15:40
16:08
En-Route
Miami (MIA)
Singapore Airlines
SQ6297
15:40
16:08
En-Route
Marseille (MRS)
Turkish Airlines
TK1367
15:40
16:53
En-Route
Riga (RIX)
Turkish Airlines
TK1775 expand_more(1)
15:40
16:25
En-Route
Riga (RIX)
Air Baltic
BT7443
15:40
16:25
En-Route
Vancouver (YVR)
Turkish Airlines
TK75 expand_more(1)
15:40
Scheduled
Vancouver (YVR)
AirSERBIA
JU8280
15:40
Scheduled
Tivat (TIV)
Flexflight
W21519
15:40
Scheduled
Tivat (TIV)
Air Montenegro
4O1519
15:40
Scheduled
Tivat (TIV)
Air Montenegro
4O400
15:40
Unknown
Sfax (SFA)
Nouvelair Tunisie
BJ685
15:40
Cancelled
Antalya (AYT)
Turkish Airlines
TK2416 expand_more(1)
15:45
16:07
En-Route
Antalya (AYT)
AirSERBIA
JU8091
15:45
16:07
En-Route
Budapest (BUD)
Turkish Cargo
TK6325
15:45
16:18
En-Route
Amsterdam (AMS)
Turkish Airlines
TK6309
15:50
Unknown
Shymkent (CIT)
SCAT
DV486
15:50
16:26
En-Route
Boston (BOS)
Turkish Airlines
TK81 expand_more(4)
15:50
16:30
En-Route
Boston (BOS)
IndiGo
6E4224
15:50
16:30
En-Route
Boston (BOS)
JetBlue Airways
B66901
15:50
16:30
En-Route
Boston (BOS)
Pakistan International Airlines
PK5081
15:50
16:30
En-Route
Boston (BOS)
Singapore Airlines
SQ6301
15:50
16:30
En-Route
Hamburg (HAM)
Turkish Airlines
TK1663
15:50
16:40
En-Route
Tehran (IKA)
Qeshm Air
QB2212
15:50
13:34
En-Route
Van (VAN)
Turkish Airlines
TK2746
15:50
16:06
En-Route
Minsk (MSQ)
Belavia
B2784
15:50
17:14
En-Route
Geneva (GVA)
Turkish Airlines
TK1919 expand_more(3)
15:55
16:35
En-Route
Geneva (GVA)
IndiGo
6E4099
15:55
16:35
En-Route
Geneva (GVA)
Oman Air
WY5757
15:55
16:35
En-Route
Geneva (GVA)
Pakistan International Airlines
PK5919
15:55
16:35
En-Route
Washington (IAD)
Turkish Airlines
TK7 expand_more(4)
15:55
16:40
En-Route
Washington (IAD)
IndiGo
6E4220
15:55
16:40
En-Route
Washington (IAD)
MIAT Mongolian Airlines
OM1131
15:55
16:40
En-Route
Washington (IAD)
Pakistan International Airlines
PK5007
15:55
16:40
En-Route
Washington (IAD)
Singapore Airlines
SQ6207
15:55
16:40
En-Route
Izmir (ADB)
Turkish Airlines
TK2328 expand_more(2)
16:00
16:20
En-Route
Izmir (ADB)
AirSERBIA
JU8047
16:00
16:20
En-Route
Izmir (ADB)
Royal Jordanian
RJ3728
16:00
16:20
En-Route
Basel (BSL)
Turkish Airlines
TK1925 expand_more(1)
16:00
16:27
En-Route
Basel (BSL)
IndiGo
6E4096
16:00
16:27
En-Route
Ercan (ECN)
Turkish Airlines
TK966
16:00
16:22
En-Route
Ankara (ESB)
Turkish Airlines
TK2162 expand_more(1)
16:00
16:38
En-Route
Ankara (ESB)
AirSERBIA
JU8176
16:00
16:38
En-Route
Cardak (DNZ)
Turkish Airlines
TK2576
16:05
16:29
En-Route
Kazan (KZN)
Pobeda
DP974
16:05
16:56
En-Route
Adana (ADA)
Turkish Airlines
TK2454 expand_more(1)
16:10
16:37
En-Route
Adana (ADA)
AirSERBIA
JU8008
16:10
16:37
En-Route
Kayseri (ASR)
Turkish Airlines
TK2014 expand_more(1)
16:10
Cancelled
Kayseri (ASR)
AirSERBIA
JU8066
16:10
Cancelled
Moscow (SVO)
Aeroflot
SU2141
16:10
17:08
En-Route
Moscow (VKO)
Pobeda
DP996
16:10
Scheduled
Moscow (DME)
S7 Airlines
S73750
16:15
17:32
En-Route
Tehran (IKA)
Iran Airtour
B99701
16:15
Unknown
Milan (MXP)
Turkish Airlines
TK1875 expand_more(3)
16:15
17:04
En-Route
Milan (MXP)
IndiGo
6E4105
16:15
17:04
En-Route
Milan (MXP)
Pakistan International Airlines
PK5875
16:15
17:04
En-Route
Milan (MXP)
Royal Jordanian
RJ3713
16:15
17:04
En-Route
Makhachkala (MCX)
Pobeda
DP942
16:20
16:48
En-Route
Trabzon (TZX)
Turkish Airlines
TK2832 expand_more(1)
16:20
17:05
En-Route
Trabzon (TZX)
Singapore Airlines
SQ6276
16:20
17:05
En-Route
Ulaanbaatar (UBN)
MIAT Mongolian Airlines
OM162 expand_more(1)
16:20
16:42
En-Route
Ulaanbaatar (UBN)
Turkish Airlines
TK4441
16:20
16:42
En-Route
Algiers (ALG)
Air Algerie
AH3017 expand_more(1)
16:25
16:36
En-Route
Algiers (ALG)
Turkish Airlines
TK4597
16:25
16:36
En-Route
Dubai (DXB)
Emirates
EK124 expand_more(1)
16:25
16:38
En-Route
Dubai (DXB)
Qantas
QF8124
16:25
16:38
En-Route
Riyadh (RUH)
Saudia
SV264 expand_more(1)
16:25
16:46
En-Route
Riyadh (RUH)
Aeroflot
SU4114
16:25
16:46
En-Route
Berlin (BER)
Turkish Airlines
TK1723 expand_more(2)
16:30
17:51
En-Route
Berlin (BER)
Gulf Air
GF6013
16:30
17:51
En-Route
Berlin (BER)
Malaysia Airlines
MH4339
16:30
17:51
En-Route
St. Petersburg (LED)
Rossiya
SU6964
16:30
17:45
En-Route
Columbus (LCK)
Turkish Airlines
TK6077
16:30
Unknown
Zurich (ZRH)
Turkish Airlines
TK1909 expand_more(5)
16:30
16:54
En-Route
Zurich (ZRH)
Gulf Air
GF6009
16:30
16:54
En-Route
Zurich (ZRH)
IndiGo
6E4034
16:30
16:54
En-Route
Zurich (ZRH)
MIAT Mongolian Airlines
OM1015
16:30
16:54
En-Route
Zurich (ZRH)
Pakistan International Airlines
PK5909
16:30
16:54
En-Route
Zurich (ZRH)
RwandAir
WB1290
16:30
16:54
En-Route
Moscow (SVO)
Aeroflot
SU2137
16:30
17:26
En-Route
Batman (BAL)
Turkish Airlines
TK2684
16:40
17:19
En-Route
Antalya (AYT)
Turkish Airlines
TK2432 expand_more(3)
16:45
17:01
En-Route
Antalya (AYT)
AirSERBIA
JU8102
16:45
17:01
En-Route
Antalya (AYT)
SAS
SK3438
16:45
17:01
En-Route
Antalya (AYT)
Singapore Airlines
SQ6210
16:45
17:01
En-Route
Benghazi (BEN)
Ghadames Air Transport
NJ214
16:45
Unknown
Tripoli (MJI)
Berniq Airways
NB312
16:45
Unknown
Athens (ATH)
Aegean Airlines
A3993 expand_more(2)
16:50
17:07
En-Route
Athens (ATH)
Emirates
EK4939
16:50
17:07
En-Route
Athens (ATH)
Turkish Airlines
TK9193
16:50
17:07
En-Route
Ouagadougou (OUA)
Turkish Airlines
TK533
17:00
17:46
En-Route
Nuremberg (NUE)
Turkish Airlines
TK1505
17:00
17:18
En-Route
Munich (MUC)
Turkish Airlines
TK1635 expand_more(2)
17:00
17:17
En-Route
Munich (MUC)
Gulf Air
GF6061
17:00
17:17
En-Route
Munich (MUC)
United Airlines
UA6909
17:00
17:17
En-Route
Stuttgart (STR)
Turkish Airlines
TK1705
17:00
17:42
En-Route
Baku (GYD)
Turkish Airlines
TK334 expand_more(2)
17:05
17:43
En-Route
Baku (GYD)
Azerbaijan Airlines
J26334
17:05
17:43
En-Route
Baku (GYD)
Egyptair
MS9304
17:05
17:43
En-Route
Vilnius (VNO)
Turkish Airlines
TK1409
17:05
17:31
En-Route
Bahrain (BAH)
Turkish Cargo
TK6578
17:10
17:27
En-Route
Seoul (ICN)
Turkish Airlines
TK20 expand_more(1)
17:10
17:50
En-Route
Seoul (ICN)
Asiana Airlines
OZ6934
17:10
17:50
En-Route
Kuala Lumpur (KUL)
Turkish Airlines
TK62 expand_more(2)
17:10
17:34
En-Route
Kuala Lumpur (KUL)
Batik Air Malaysia
OD9212
17:10
17:34
En-Route
Kuala Lumpur (KUL)
Malaysia Airlines
MH4268
17:10
17:34
En-Route
Adana (ADA)
Turkish Airlines
TK2464
17:30
17:41
En-Route
Singapore (SIN)
Turkish Airlines
TK208 expand_more(1)
17:30
Scheduled
Singapore (SIN)
Royal Brunei Airlines
BI3613
17:30
Scheduled
Bucharest (OTP)
Turkish Airlines
TK6307
17:30
Scheduled
Belgrade (BEG)
AirSERBIA
JU803 expand_more(1)
17:35
17:48
En-Route
Belgrade (BEG)
Turkish Airlines
TK9503
17:35
17:48
En-Route
Bologna (BLQ)
Turkish Airlines
TK1325
17:35
17:54
En-Route
Djibouti (JIB)
Turkish Airlines
TK659
17:35
17:55
En-Route
Prague (PRG)
Turkish Airlines
TK1769 expand_more(3)
17:35
Scheduled
Prague (PRG)
Egyptair
MS9665
17:35
Scheduled
Prague (PRG)
IndiGo
6E4027
17:35
Scheduled
Prague (PRG)
Uzbekistan Airways
HY7255
17:35
Scheduled
Tel Aviv (TLV)
Turkish Airlines
TK6342
17:40
Scheduled
Moscow (VKO)
Pobeda
DP994
17:40
Scheduled
Tripoli (MJI)
Ghadames Air Transport
NJ212
17:45
Scheduled
Amsterdam (AMS)
KLM
KL1614 expand_more(2)
17:55
Scheduled
Amsterdam (AMS)
Delta Air Lines
DL9512
17:55
Scheduled
Amsterdam (AMS)
Kenya Airways
KQ1614
17:55
Scheduled
Catania (CTA)
Turkish Airlines
TK1395
17:55
Scheduled
Kinshasa (FIH)
Turkish Airlines
TK671
17:55
Scheduled
Rome (FCO)
Turkish Airlines
TK1863 expand_more(4)
17:55
Scheduled
Rome (FCO)
IndiGo
6E4187
17:55
Scheduled
Rome (FCO)
ITA Airways
AZ7033
17:55
Scheduled
Rome (FCO)
Oman Air
WY5765
17:55
Scheduled
Rome (FCO)
Pakistan International Airlines
PK5863
17:55
Scheduled
Warsaw (WAW)
Turkish Airlines
TK1765 expand_more(1)
17:55
Scheduled
Warsaw (WAW)
LOT
LO4506
17:55
Scheduled
Naples (NAP)
Turkish Airlines
TK1879
17:55
Scheduled
Izmir (ADB)
Turkish Airlines
TK2334 expand_more(3)
18:00
Scheduled
Izmir (ADB)
AirSERBIA
JU8053
18:00
Scheduled
Izmir (ADB)
Asiana Airlines
OZ6937
18:00
Scheduled
Izmir (ADB)
SAS
SK3442
18:00
Scheduled
Flying To and From Istanbul Airport
This page provides information about the destinations that can be reached via Istanbul Airport.
Was your flight delayed or cancelled?
You may be eligible to receive up to 600 EUR compensation per person in your party..
Claim Now!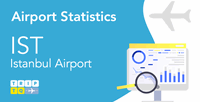 According to available records, Istanbul Airport saw a 13.66% increase in passenger numbers in September 2023 compared to the same month in 2019.